Pet Safety Month: Car Safety – Confession Turned Warning
To be honest, I am so embarrassed that this incident happened in the first place that I was never going to write about it.  But when I saw that BlogPaws was doing Pet Safety Month for July, I talked myself into 'fessing up.  I want our story to serve as a warning that anything can happen, especially when you're least expecting it.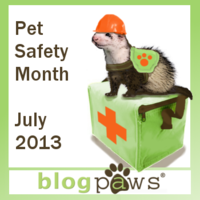 People talk about car safety for pets all the time, but until something really happens, sometimes it goes in one ear and out the other.
About a couple months ago, something happened that taught my husband and I a big lesson about our most recently adopted dog, Austin.  But really, this lesson could apply to any dog.
For years, we just had LittleBear.  Although he was a little sweetheart in the car, it was still irresponsible of us to let him be loose while we were driving.
Later, we got Li'l Girl.  Other than fighting over "window time", they were both pretty good.  It doesn't matter that there were windows on both sides of the car and that they could each have a window all to themselves if they wanted.  Each of them only wanted to look out whichever window the other was looking out of.  They didn't exactly "fight" about it.  Li'l Girl would be her bossy self and sweet LittleBear would just let her have her way.
Talk about nose art.  Every single window of my old Jeep Grand Cherokee was covered in nose art.  No longer have that old Jeep… it was adopted by a family member.
LittleBear passed away in October 2012.  We weren't planning on adopting another for quite some time… we really wanted and needed a lot of time to grieve.  But you know how things are sometimes… sometimes the dog-gods have something else in mind for you.  So Austin made his way to us just a few short months later.
Austin is a dachshund, of course.  But boy, he is a dachshund unlike any other I've had.  His body is all dachshund, but his legs… his legs are much taller than what you see on most modern dachshunds.  I say 'modern' because he looks like what dachshunds looked like when they were originally bred.  At that time, they did have much taller/longer legs.  Anyway, needless to say, he can JUMP.  I mean JUMP.  A true frogdog, I tell you.
For a dachshund, the jumping is dangerous enough on its own.  Dachshund parents have to be extremely mindful of spinal injury and disease, and jumping must be kept to a bare minimum, if any at all.  But with Austin, there is an added element of danger that we learned on that very scary day:  HE IS FEARLESS.  AND STRONG.
The story, the story… get to the story!
Okay, so… I just need to run a quick, short errand.  Go to the post office to drop off a package there, as well as hit our nearest UPS drop box.  The post office is crazy close to our house, and the UPS box at a location just a little further.  I plan to go alone – no need for anyone to come with.
But hubs says that the dogs would enjoy a quick drive, so suggests that he and they come along.  I sigh.  I didn't want to make this into an event.  And when they go in the car with us, it's ALWAYS an event because they are SO excited.
Just a quick trip… no need to get all harnessed up for safety and such, right?  WRONG.

It was my husband's idea to let them be free, thinking he could manage the both of them.  I didn't feel good about it, but I didn't put my foot down.  I didn't want to start an argument over running a simple errand.  But I should have insisted that they be geared up, so the blame is on both of us for what happens next.
First stop is the post office.  I get out of the car, go inside the post office, come back out the door… and Austin is running up to me.  Let me repeat that:  Austin is out of the car and running up to me.  All in the same moment, my mouth gapes open in surprise, my eyes get big as saucers, and I swoop him up as fast as humanly possible.
I carry him back to the car, utterly dumbfounded.  Upon getting in, I practically scream at my husband, "What the hell happened?"  I'm ready to lose it.  The windows were only partially down – not nearly large enough of an opening to jump out of, so I really didn't understand how Austin could've gotten himself out of the car.  As it turned out, he panicked when I got out of the car, wrestled away from my husband, and got his foot on the power window button while stomping around at the door – rolling it down just enough to be able to launch himself out.
We were SO lucky that day.  First, if Austin had ran in the opposite direction instead of running to me, he would have ran directly into traffic.  It is still so upsetting to think about that.  Second, from the car window to the pavement is no pleasant jump.  We thought for certain that he must've injured himself.  A leg, a shoulder, his spine… surely something.  But surprisingly (and thankfully), he seemed no worse for wear.  We took him to the vet anyway for a good checking over, just in case.
Wait.  So all this build up and he ended up being totally okay?  Yes, we were very, very, very lucky and he ended up being totally okay.  But we are well aware that it could've gone so much differently.  The scare was enough to learn a few lessons:
Lesson 1:  Even if it's just a short trip, always practice car safety.  Whether you choose to use a crate, a traveling harness, a car seat, a doggy seat belt or whatever… just use them!  Neither LittleBear nor Li'l Girl ever even attempting jumping out… to be honest, even though they enjoyed looking OUT the window, they didn't enjoy looking down so much.  I think the height scared them.  So we got complacent, which is the worst thing you can do.
  which leads me to…
Lesson 2:  Never prejudge a pet based on the behavior of your other pets.  It seems like common sense, but apparently we needed a good helping of it that day. Because LittleBear and Li'l Girl weren't fearless enough to launch themselves out of a car window, we made the same judgement of Austin and he could've paid for it with his life.  So perhaps you have a dog that is just an absolute angel in the car… always has been… just lies down and naps.  Be careful, because your next dog may be the type that wants to run over every square inch of the car, as fast as doggily possible.  Again, don't get complacent.
Lesson 3:  Always lock the windows.  On most modern vehicles, you can lock the windows so that they cannot be rolled down.  My car has this feature, and I was fully aware of it.  I just forgot to lock the windows that day.  Again, complacency.
Lesson 4:  Respect the common theme of lessons 1, 2, and 3 – DON'T GET COMPLACENT.  Always be mindful of safety and always expect the unexpected.
That's a wrap!  I hope that no one experiences a scare like we did with Austin.  My husband and I felt tremendously guilty over this almost-disaster and were uneasy about even taking Austin in the car again for a while.  But accidents do happen, and we had to forgive ourselves.  So don't be too hard on yourself if you have also experienced such a scare.  Guilt over a mistake doesn't help anything.  Learning from the mistake and changing your actions is all that's important.
Remember, this post was a part of the BlogPaws Pet Safety Month Blog Hop.  If you have a post related to pet safety, be sure to link it up to the hop!  Participants in this hop have a chance to win one of a few cool prizes.  A couple of items were donated by yours truly!  See all details regarding the hop, including the prizes, at the link above.
Barks That Sound Similar: