Monday Mischief: This Dog is Nuts
The WienerDad has been traveling for work quite a lot this year, his most recent week being the third week of August.  He usually flies out on a Monday morning and returns late Friday night.  The Sunday night before is usually spent at home – doing laundry, packing, etc.
Well, on this particular pre-travel Sunday, we decided we'd go out to eat and just get out of the house for a while together – believe me, that doesn't happen often around here.  The wieners are left with free reign of the house while we're gone, and this is normally no problem.  We always return to the house and the dogs (and the house) are in the same condition we left them.
Not this time.
WienerDad had packed before we left to go out to eat, and he had packed several bags of mixed nuts in his suitcase for snacks throughout the week.  Well, not exactly a suitcase… a garment bag, but you get what I'm saying.  The nuts were in three Ziploc bags, each bag containing a combo of plain almonds, smoked almonds, and walnuts.
If you know what a garment bag is like, you know that it folds over and fastens together.  WienerDad had not fastened it together yet, because there would be a few last minute items to pack right before leaving in the morning.  He also left it lying on the bedroom floor.  Not thinking, we left the bedroom door open when we left.
Somehow, even though we've had Austin since December 2012, we tend to forget his insatiable food drive and penchant for mischief.  We are just too spoiled to what LittleBear was like… he had an insatiable food drive, but no penchant for mischief; and what Li'l Girl is like – sassy and bossy, but not a mischief-maker.
We stayed out longer than we usually do, which was still not very long.  We came home, and the wieners were boundlessly happy to see us, as usual, but we knew something was up.
It took us a few minutes to find this:
I get panicky and immediately start scouring the internet to see if almonds and/or walnuts are toxic to dogs.  Well, almonds are not, but they cannot be digested and can possibly cause an obstruction.  Super.  Walnuts are also not toxic by themselves, but the husks/shells can be toxic if they are moldy.  The mold contains mycotoxins that can cause neurological symptoms such as tremors, seizures, and vomiting.  Well, he didn't eat any shells, so that hopefully shouldn't be a problem.  There is always the possibility of trace contamination, but I'm not going to get too worried about that just yet.  However, like the almonds, the walnuts are indigestible by dogs and have the possibility of causing an obstruction.
I knew the next day or two would consist of worry, waiting, and poop-watching.  All dog owners understand poop-watch.  Sometimes a particular poop-watch event is worrisome enough to be memorable, even years later.  "Remember PoopWatch '97, hon?"  "Oh yeah, when Slinky ate a HotWheels.  Sure, who could forget?"
This poop-watch wasn't quite a monumental event, but worrisome nonetheless.  I really didn't want to be dealing with surgery for an intestinal blockage with WienerDad out of town.
Thankfully, it wasn't necessary.  Over the next couple of days, Austin continued to create poops filled with whole almonds.  Completely whole.  Not the slightest bit chewed or damaged in any way.  And uhh… almonds are pointy at one end.  He got very lucky that the pointy ends were faced inwards in the poop.  The walnut pieces were there too, but were harder to distinguish.  I know… disgusting visual.  Be glad I'm not cursing you with photos of his PayDay bars.
Austin is fine, no worse for wear.  He has simply taught us another lesson.  If there is any kind of food… anywhere… in anything… it MUST be behind a closed door.  All we had to do was close the bedroom door before we left and my husband's nuts would've been left untouched.  Heh.
This post has been included (quite late, I might add) in the Monday Mischief Blog Hop,
brought to you by Alfie's Blog, Snoopy's Dog Blog, and My Brown Newfies.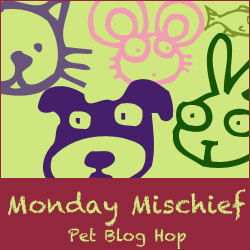 Barks That Sound Similar: