Be Very Careful With Certain Stuffies!
You know what I'm talking about.  Stuffies as in stuffed animals, critters, creatures, monsters, or any other kind of stuffed toy we give to our dogs (or cats!) to play with.
There are tons of stuffed toys to choose from that are made specifically for pets drag around, throw around, play fetch with, and sink their teeth into.
Some pets are very gentle with their stuffies.  They carry them around gingerly in their mouths, dote over them, and often nap with them.
Others, like the wieners,  practically race to see how fast they can rip a stuffy open and tear its guts out.
They have a system, which they have allowed me to share with you:
Phase 1 – If the creature has a beating heart (a squeaker), it must be squeaked to death.  Then rip out the heart (squeaker) unceremoniously, ensuring that the creature is indeed fully dead.  If the creature seems heartless, simply open the creature violently and proceed to Phase 2.
Phase 2 – Move to full-on destruction.  Pull out every possible shred of guts.  Move from place to place while doing this, ensuring that guts are displayed proudly throughout the house.
Phase 3 – Sigh with disappointment that there are no more guts to fish out.  Look at remaining empty carcass with mild contempt.  Snatch carcass with teeth and throw it wildly into the air.  Not satisfying.  Throw carcass into the air a few more times in case you were mistaken about not being satisfied the first time.  Nope, still not satisfying.
Phase 4 – Carry mangled corpse around with you until a human notices.  Drop it from your mouth like you are completely disinterested in it.  If the human attempts to pick up the corpse, give a warning growl.  Repeat this process as many times as necessary.  The human must always know that the carcass is yours until you have not touched it for at least one full year.  If the carcass begins to stink, insist upon keeping it longer.
I'm sure many of you are familiar with this system.
Okay, so what's the warning?  I did tell you to be careful, didn't I?
The warning is to be careful with stuffed animals that are not specifically made for pets.
We had a small dog stuffy that was just a regular stuffed animal… I can't even remember where it came from because we don't have any kids of the human variety.  Anyway, we gave it to Li'l Girl, not really thinking there might be anything wrong with it.
No picture of the carcass, because I didn't think to snap a photo of it before it went into the trash.  (It was a soft little stuffed dog that looked like an English Bulldog, not the red toy shown in the pictures above.)
It had the usual kind of stuffing… she's very good at spitting it out after she extracts it.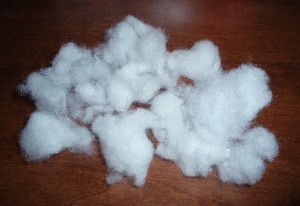 But apparently, deep in the center, it also had what is pictured below… a little mesh baggie of plastic beads.  I have cut a corner open so that you can see the beads.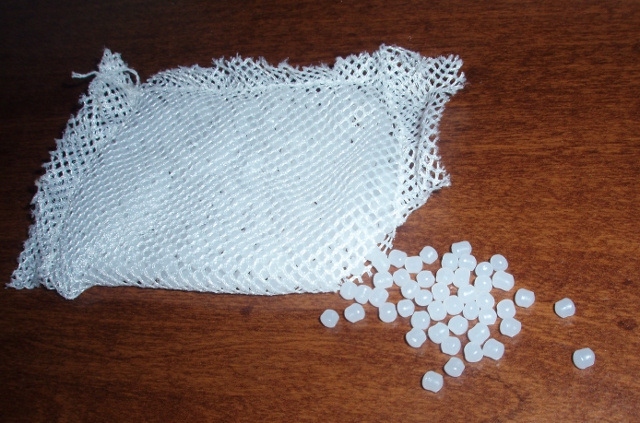 Thankfully, while she was ripping its guts out, I happened to look down right at the moment she pulled the baggy out.  I got it away from her, and it seemed to have no holes in it, so I don't think she swallowed any beads.
Now, if she had swallowed a few, they would've probably passed on through with no lasting effect.
But what if she had swallowed the whole bag of beads?
Lesson learned.  I had never given her a regular stuffed animal before and certainly won't again after this incident.  Only toys and stuffies that are made specifically for pets!  I already have to pay close attention to make sure they don't swallow squeakers or other pieces of toys.  I don't want to have worry about weird things like beads too.
So be careful, folks… be mindful of what you give your kiddos to chew on.  You never know what's in there.
This post has been included in the Saturday Pet Blogger Hop,
hosted by Two Little Cavaliers, Life With Dogs, and Confessions of the Plume


Barks That Sound Similar: