Kong Wobbler: Round One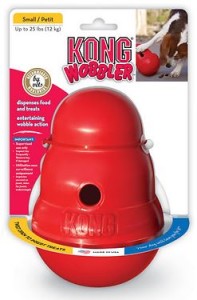 The wieners really need some more indoor activities, since it's about 87 million degrees outside right now.  I've seen lately that a lot of people are using Kong Wobblers to provide a fun way to give their dogs treats, or even feed a whole meal; so I buy a couple of Wobblers and hope for the best. (As a note, I bought the small size and it is more than adequate for our use.)
Kong Wobblers are hollow on the inside for you to put some kibble or treats in, with a hole on one side for the kibble/treats to fall out of when the Wobbler is knocked around.  They are heavier at the base and are designed to stand back up on end after being knocked over.  The idea is for it to be a fun, or at least mentally stimulating, way to treat or feed your dog.
Below is a video of a dog that is almost too good at knowing exactly what to do to get the kibble to fall out, or this case: fly out and slide across the slick kitchen floor.  For this reason, I would advise against using the Kong Wobbler in the kitchen, as you may end up with a lot of stray kibble under your appliances.  Stray kibble can quickly become an escalating problem.  Don't contribute to the homeless kibble population.
http://www.youtube.com/watch?v=_I6pN9AIils
I know that it will take a lot of showing them what to do, and I have decided that I will try to train them on the Wobblers every morning for their breakfast.  (They get a small amount of dry kibble for breakfast – their evening meal is moistened with water, plus they get some supplements at that time, so we won't be using the Wobbler for dinner.)  Anyway, this morning went as follows:
Austin – Round One
Li'l Girl – Round One (Even Worse)
As you might guess, I had to get it all out for them.  I kept knocking around the Wobblers, trying to give them idea… but to no avail.  We will try again tomorrow.  And the next day.  And the day after that.  It's clear that many more rounds of "teaching" (i.e. doing it for them in the hopes that they'll catch on) may be required than I thought.  I won't post about it again until we achieve success.
How about you?  Do you have a Kong Wobbler around your house and does your dog understand how to knock it around to get the food/treats out?  If so, how long did it take them to figure it out?  Judging by videos I've watched, some dogs seem to pick up on it right away… others not so much… if ever.
Disclaimer:  This was not a review for the Kong Wobbler, so please do not consider it as such.  A proper review requires proper use of a product, which we have not achieved yet.  This was simply a summary of the wieners' first experience with the Wobblers.  
UPDATE:  They figured it out… turns out they were just faking not knowing what to do.
Barks That Sound Similar: