This 'N That Thursday: Good News & Not Quite Book Reviews
Today we are joining 2 Brown Dawgs, as well as a new co-host Ruckus the Eskie, for the
This 'N That Thursday Blog Hop.
From the 2 Brown Dawgs:
It's a little of this and a little of that and everything in between…
Grab the badge and join the hop.  All are welcome!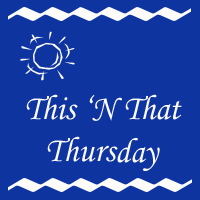 Earlier in the week, I shared some pretty sad news about our friend Matilda the Greyhound.  Her mom is getting through the best she can, but we all know how difficult every moment is in the days, weeks, and sometimes months following the loss of a beloved four-legged family member.  My thoughts are still with Terry as she learns to navigate this world without her special gal.
But I also have some happy news to share this week.
First, I was lucky enough to receive two books by author Jackie Bouchard recently… AND… she signed them both!!  Don't tell her, but I had a little squee over that.  I like how she just signed them "Bouchard"… you know, just one name… like Cher or Madonna.  I was a little bummed that her dog Rita didn't leave her mark somewhere… some drool spots, a bite mark or two, a Frito-scented paw print (if you don't get that, then you've never smelled your dog's feet).
I've been following Jackie's blog, Pooch Smooches, for a number of months…  so I'm a little embarrassed to admit that I hadn't at least already read her first book What the Dog Ate.  Her second novel, Rescue Me, Maybe, was just released recently, so I didn't have to be embarrassed about not reading that one yet.  But guess what?  I still haven't had time to read them.  I know, I know.  The shame.  A signed copy of each and I haven't even broken into the first chapter of either one.  Give me some time!  No.  Literally.  Give me some of your time, so I can have time to read.  So yeah, I'd love to review them, but can't just yet.  You'll have to settle for "I strongly anticipate that they will be fantastic."
BIG, HUGE tail-wagging thank you to Jackie and I promise to tear into the books as soon as I can.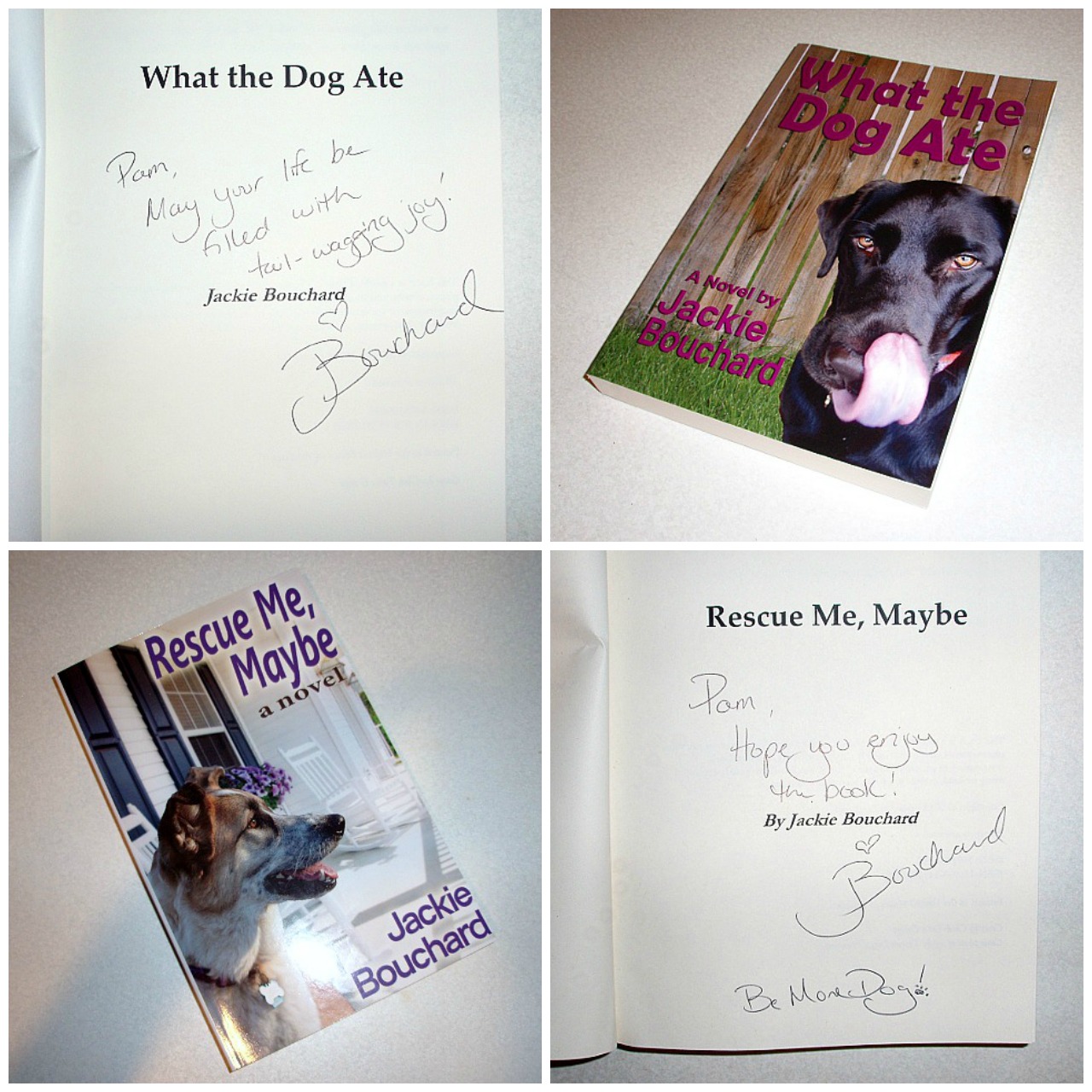 Now for the next good news…
Remember Gracie?  The dog that showed up on our doorstep and we were doing everything we could to help find her a new home?  Well, in my last post about her, she had been adopted, but her adopters decided to return her and I was bummed.  Her foster family is fantastic and of course they took her back, but it was still disappointing that her adoption didn't work out.
Well, I had mentioned a number of times in my Gracie posts that I secretly wished the foster family would be "foster failures" and just adopt her themselves.  On Tuesday afternoon, I got the following email from the foster mom, granting my wish:
After much discussion about doing the right thing for Gracie — we can't imagine a better home than staying with us.  We are just absolutely in love with her.
What would the process be for us to keep her forever?   Just let me know!
In another email she said that their other young dog, Remmy, might love Gracie even more than they did… if that was possible.  She attached a pic of the two of them crashed out together.

If you followed the story, you know there were quite a few bumps in the road.  That picture makes it all worth it.
And those signed copies of Jackie's books?  They were actually a very, very kind gift from Jackie for doing everything we could to save Gracie.  Sweetest author I've ever known.  Okay, she's the only author I've ever known even remotely personally.  No wait, that's not entirely true.  I also know the sweet and sassy Emma the GBGV, author of Tales of a French Scent Hound (which I was lucky enough to get a pawtographed copy of).  But yeah, it was pretty awesome to get Jackie's books just for doing the right thing.
Barks That Sound Similar: