This 'N That Thursday: Darned Allergies
Today we are joining 2 Brown Dawgs, as well as a new co-host Ruckus the Eskie, for the
This 'N That Thursday Blog Hop.
From the 2 Brown Dawgs:
It's a little of this and a little of that and everything in between…
Grab the badge and join the hop.  All are welcome!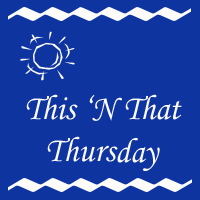 Last Saturday, we noticed that Li'l Girl was licking (and licking and licking) at her right front paw.  Well, we looked at it and what we saw was a swollen lumpy area, raw from all the licking.  I couldn't get any pictures of it when we first noticed it because she was guarding it way too much – she would barely let us look at it.  She wasn't limping at all or doing anything else to indicate it was painful, so we hoped it was just itchy.  You can never tell with dogs, though.  They're very good at hiding pain, illness, etc.  It's instinctive to them to not put any possible vulnerabilities on display if they can possibly help it.  We couldn't get into the vet until Monday, so we just tried to keep it cleaned off and keep her from licking it too much.
I didn't get the two pictures below until Monday morning, and it was actually looking much less raw by then and maybe slightly flatter/less swollen.  Even though it seemed like it might be going to improve on its own, we still wanted to get it checked out.  She had just gotten over a good fall allergy attack, which was basically a week's worth of itching and scratching herself up good, which we home-treated with Benadryl, wiping her down often, and only going outside for potty breaks.  It really only lasted a week, right at the point when ragweed pollen peaked.  I'm glad we didn't take her to the vet for that, because they might've wanted to put her on steroids, which we're not big fans of unless absolutely necessary.
At our appointment on Monday, the vet examined Li'l Girl's paw and really had her way with that lump. She poked, prodded, and squeezed at it until it bled. She wanted to make sure there was no cyst, no infection, no abscess, no thorn stuck in there, etc. Finally, having come up with no other answers, she said that it was probably just a spot left over from Li'l Girl's main allergy attack. A spot that was particularly itchy, perhaps, and she just got it very inflamed with licking at it, which just incited her to lick at it even more, and the cycle continued.  Dog parents who've dealt with Lick Granuloma know all about the licking cycle.  This hadn't progressed into a Lick Granuloma just yet, but it could if Li'l Girl didn't leave it alone.
So she got a shot of Dexamethasone, and the vet sent us home with a bottle of Betagen topical spray (it contains Gentamicin – an antibiotic; and Betamethasone – a steroidal anti-inflammatory) to use in case Li'l Girl starts messing with any particular spot again.  I said before that I wasn't particularly fond of steroids, but I was talking about being on rounds and rounds of them.  I'm okay with one shot, and I'd be okay giving her a spritz of spray now and then on a localized spot.
It's Thursday now, and the area is looking much better, as you can kind of see in the pictures below.  It's much flatter (not as swollen) and just looks much better overall, and we haven't even been using the spray.  Li'l Girl hasn't really been licking at it since Monday evening, so we know that it's no longer bothering her.  I will be keeping an eye on it to make sure the lumpiness goes away completely.
Looking at these pictures, it really bothers me how long the nail on her dewclaw is.  I think they missed it at her last nail trim.  We have clippers, but attempts to trim nails at home have never gone well (see: disastrous), so it will just have to wait until next time.
So that's it for today, just a boring old paw issue.  There was supposed to be a little of this and a little of that, but because I'm getting around so late today, we'll just stop at the 'this' and leave the 'that' for another day.
Barks That Sound Similar: