Tuesday's Tails: Featuring Hana
Today we're joining up with the friendly dogs and folks
at Dogs N Pawz for the Tuesday's Tails Blog Hop.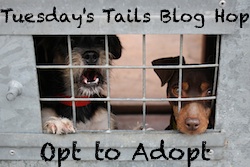 A little about this blog hop, via Dogs N Pawz:
This is the Blog Hop that features shelter animals. Find a cat, dog, rabbit, etc. at your local animal shelter or rescue and feature them on this Blog Hop! Come join the fun and help a furry friend find a forever home! And while you're at it, don't forget to visit the other blogs and share their doggies, cats, rabbits, and all the other animals that need forever homes on your social media sites. Please spread the word!
Dachshund Rescue List (formerly Words With Wieners) is a Dachshund-centered site and you will always see a featured adoptable Dachshund in the sidebar.  You may also check out my state-by-state list of Dachshund rescues to find an adoptable Dachshund in your area.  However, we love ALL dogs here, and for the Tuesday's Tails Blog Hop, we will proudly be featuring adoptable dogs of all breeds, shapes, and sizes!
Occasionally the dogs we feature will be local, but we will also feature dogs from all across the nation.  We hugely applaud, appreciate, and support all no-kill shelters and rescues; these organizations usually operate on a non-profit basis and rely completely on donations for funding.  However, most city-funded shelters receive a large influx of animals on a daily basis and must unfortunately operate as kill shelters.  Because of this, most of the dogs featured will be in these types of facilities where their fate is most at-risk, to put it nicely.
Today's Featured Adoptable Dog is Hana!
Hana is believed to be a German Shepherd mix and is estimated to be a little over two years old.
As you can see, she's quite beautiful!
Because she's still young, she would likely do best in a home
where there is time to be active and have fun.
Hana looks very sad in her shelter picture: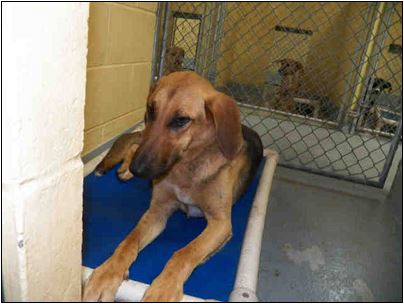 But looks very happy in the pictures taken for her Facebook post.
She's so happy to be outside enjoying the sun!
You can tell that she's ready to be someone's best pal!

For more information about Hana, you may contact:
Tulsa Animal Welfare
Inquire about Animal ID Number A053282
Phone Number: 918-596-8000
Address: 3031 North Erie Avenue
Tulsa, OK 74115
Tulsa Animal Welfare can also be found on Facebook and Twitter

Barks That Sound Similar: