Tuesday's Tails: Featuring Serena – An Adoptable Dachshund
Today's Featured Adoptable Dog is Serena
Serena is a smooth-haired, black & tan dapple
Miniature Dachshund
available for adoption from
Rockin' G Animal Shelter in Pryor, Oklahoma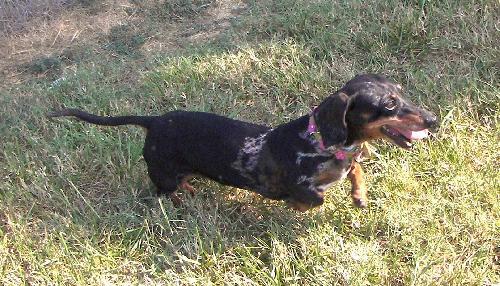 The shelter describes Serena as very sweet.  She is estimated to be 6 to 8 years old,
but as you can see by her photos, she is still very energetic and loves to play.
However, as with most Dachshunds, she is quite happy to sit in your lap.
Serena is definitely a Miniature, only weighing about 8 lbs.
Her adoption fee includes vet exam, all vaccinations,
deworming, negative heartworm test, and spay/neuter surgery.


For more information about Serena, you may contact:
Rockin' G Animal Shelter
1365 N Mill St
214 S Mill St
Pryor, OK 74361
(918) 825-7172
rockinganimalshelter@yahoo.com
Pet ID# 6078169
Serena at Adopt-a-Pet
Serena at PetFinder
Rockin' G Animal Shelter can also be found on Facebook
---
This post is a part of the Tuesday's Tails Blog Hop,
kindly hosted by the friendly dogs and folks at Dogs N Pawz.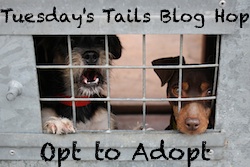 A little about this blog hop, via Dogs N Pawz:
This is the Blog Hop that features shelter animals. Find a cat, dog, rabbit, etc. at your local animal shelter or rescue and feature them on this Blog Hop! Come join the fun and help a furry friend find a forever home! And while you're at it, don't forget to visit the other blogs and share their doggies, cats, rabbits, and all the other animals that need forever homes on your social media sites. Please spread the word!
Barks That Sound Similar: