Super Sweet Blogging Award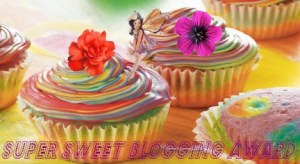 Recently, the wieners and I received a Super Sweet Blogging Award nomination from Miss Harper Lee at The K9 Harper Lee.  This award nomination is particularly special to us because it's our very first; and coming from Miss Harper Lee, it really means a lot.  We are very new to blogging, and have been meeting a lot of really wonderful people along the path of this journey.  Some folks are all business, some are silly, some are sweet.  The lady at the keyboard for Miss Harper Lee is one of the very sweetest, so as nice as it was already just to receive an award nomination, it was the cream cheese frosting on the melt-in-your-mouth red velvet cupcakes to receive it from her.  I've been facing some ups and downs recently, so Miss Harper Lee doesn't know it, but she really gave me an extra boost of encouragement when I needed it most.  For that, I can't thank her enough.
It turns out, there are some rules for receiving the Super Sweet Blogging Award.  But just five… and they're simple:
Thank the Super Sweet Blogger who nominated you.  ✓ Check
Answer five super sweet questions.  ✓ Check – see below.
Include the Super Sweet Blogging award image in your blog post.  ✓ Check
Nominate a baker's dozen bloggers to receive the Super Sweet Blogging Award  ✓ Check – see below.  Side note: this took a lot longer than I thought it would… like many things in life, it was simple, but not easy.
Notify your nominees on their blogs.   ✓ Check – Doing this right now!
Now, about those five questions I mentioned… I'm going to field these, because the wieners have assured me that anything sweet is good as long as they get some.  And truthfully, they do.  Teensy-tinsy, eensy-weensy nibbles.  Just enough to feel like they're getting some.  Sharing among the pack is important.  They're distracted now by all this talk of sweets… onto the questions!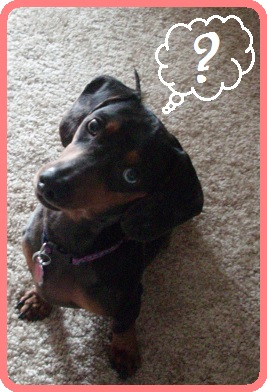 Cookies or cakes?  What do you mean 'or'?  Never heard of the word.  Don't know what you're talking about.
Chocolate or vanilla?  *Examines self*  Yep, still female.  This would indicate chocolate.  Always chocolate.
Favorite sweet treat?  So tough.  Three-way tie between soft, warm chocolate chip cookies/moist and decadent chocolate cake warmed up with melted butter instead of frosting/dark chocolate brownies, warm… of course, always warm.
When do you crave sweet things most?  A sweet craving usually hits hard about thirty minutes to an hour after eating dinner.  I usually resist it.  Usually.
Sweet nickname?  Oh dear… *blushes*  My name is Pam, and I don't know how, but that name has garnered me a lot of nicknames over the years.  The sweetest?  One of them was Pammylicious.  Embarrassing.  You'd just have to know the person behind that nickname.  The wieners?  Oh boy, they have a million nicknames… too many to list.  They hear those more often than their real names.

Getting on to the best part… naming my nominees for the Super Sweet Blogging Award.  There's no rule about duplicating nominees from the same list that you were on, but I'm going to make it a rule for me.  Even though they may deserve multiple nominations, I'm going to make sure not to repeat anyone from Miss Harper Lee's list.  Okay, let's get to it! 
These are all bloggers I've stumbled upon via different avenues, some though blog hops, some through comments on others' blogs, some I can't remember.  But they all have one thing in common for sure: super sweetness!
(Two side notes:  One – these are in no particular order, and two – there are many, many (MANY) amazing blogs full of sweetness out there.  Truthfully, I could nominate dozens and dozens, but you'll have to settle for just one baker's dozen.)
And that's it folks… whew!  Again, simple… but not easy.
Barks That Sound Similar: