Zuke's Z-Bones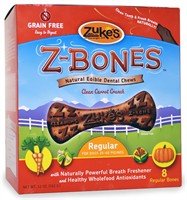 Zuke's Z-Bones are all natural dental chews for dogs.  They can serve as a very tasty alternative to rawhide and/or alternative to real bones.  Like other dental chews, Z-Bones are intended to help clean your dog's teeth, and they have a ridged surface for just that purpose.  They also feature breath-freshening herbs and healthy wholefood antioxidants.  You will notice that I used the word 'tasty' earlier, and I did so for a reason.  Zuke's Z-Bones come in three flavor varieties that sound very appetizing, even to me… not that I plan on chewing a Z-Bone anytime soon ;).  Like every chew recommended here, Z-Bones contain no wheat, corn, gluten, or soy; and have no added sugar and no artificial ingredients.  In fact, they don't even contain any rice or oats like most other multi-ingredient dental chews, so they are truly 100% grain-free.  Rice and oats are known to be hypoallergenic, but a few dogs do have sensitivities to one or both.  Zuke's Z-Bones could be just the thing if your dog must have no grain whatsoever.
Zuke's Z-Bones come in four different sizes and as mentioned before, three different varieties.  They can be purchased as singles (which are great for getting one for your dog to sample before committing to a bag), and multi-packs (the most common option).
Sizes:
Mini:  Recommended for dogs 5-25 pounds
Regular:  Recommended for dogs 25-60 pounds
Large:  Recommended for dogs 60-90 pounds
Giant:  Recommended for dogs 90+ pounds
Varieties:
Clean Apple Crisp
Clean Berry Crisp
Clean Carrot Crisp
The Verdict:
Ingredients: ★★★★★ Zuke's Z-Bones get the wieners' highest rating of five stars for ingredients.
Taste:  ★★★★★ We tested the Clean Apple Crisp flavor and the wieners seemed absolutely crazy for them, so I'd say taste = awesome.
Chew Time: ★★☆☆☆ Given the Regular size:  The Chomper (Austin) averaged four minutes per Z-Bone.  The Grinder (Li'l Girl) averaged nine minutes.  Average overall: 6.5 minutes
Cost:  ★★☆☆☆ These are relatively pricey.  I paid $14.99 for a bag of eight Regular size Z-Bones, so that's roughly $1.87 per Z-Bone.  Therefore, almost two dollars for six and a half minutes of peace… not really, because I watch the testers with crazy vigilance while they're chewing.
Overall Rating:  ★★★☆☆ We'd love to give five stars for the fantastic ingredients and terrific taste, but the price and chew time knocked off a couple stars.
Recommended?  Yes, I would still recommend Zuke's Z-Bones due to the quality of ingredients and the integrity of the company, just perhaps as a once in a while treat.  My testers, while small, are voracious chewers… so your dog(s) may get a longer chew experience if they aren't as… errr… enthusiastic about every single thing that meets their lips.
Where to Buy:
You can find where to purchase Zuke's products locally by using their store locator.  However, you may be able to find a better deal at online retailers, such as PetFoodDirect, EntirelyPets, HealthyPets, OnlyNaturalPet, Amazon, PetMountain, Wag, and more.  Please note that not all retailers carry all sizes and varieties of Z-Bones.
Z-Bones are one of the many products that Zuke's offers.  Based in Durango, Colorado, Zuke's is a homegrown company with a commitment to producing healthy, all-natural treats for dogs.  You can find out more about the Zuke's story at their website.
Z-Bones® is a registered trademark of the Zuke's brand.
Dachshund Rescue List (formerly Words With Wieners) did not receive any compensation (monetary or product) for this review.  Zuke's Z-Bones were chosen for review because they meet the guidelines for being a recommended product here.  This is an honest review, comprised of personal research, product use, and personal opinion.  If there are links to a product in any of the reviews, a commission may be paid to me if you purchase the product through those links.  The commissions are small.  I do this because I love dogs, all dogs, even your dogs 😉 and I care about their health.   Any commissions I receive as a result of a review do not impact my opinions of a product. Your dogs deserve for me to be nothing less than completely honest.  If I feel a product is worthwhile to be featured here, I will promote it. If not, I won't.  Period. 

Barks That Sound Similar: