Tuesday's Tails: I'm Sorry
On Tuesdays, I usually participate in the Tuesday's Tails Blog Hop, which is a hop dedicated to featuring adoptable pets and networking them.
However, I have been struggling all morning to choose a sweetheart to feature.  Lately, I've been featuring Dachshunds from Furever Dachshund Rescue, but today I decided to roll the dice at PetFinder.  My gamble ended in tears.
First, I did a search to see how many Dachshunds/Dachshund mixes were listed nationwide. 
6,383.  Six thousand, three hundred and eighty-three.  As large as that number is, not all shelters and rescues use PetFinder, so the true number of Dachshunds looking for homes is actually much higher.
I cried.
427 of those are listed as seniors. 
More tears.
I clicked on a few random seniors.  Like this one.  And this one.  And this one.  And this one.
Utter heartbreak.
No descriptions of their personalities, their qualities, their quirks, their loving faces, their sweet dispositions. 
Just phrases such as Abandoned Behind Shelter, Surrendered by Owner…
It is impossible not to want to ride through the sky like Santa, stopping at every shelter, swooping them all up into my arms.
You are NOT "Abandoned Behind Shelter".  You are "Loved by This Lady".
Were there seniors with good descriptions and better photos?  Yes, of course.  Those are usually in loving foster homes with someone who has time to create better profiles for them.  But my heart breaks for the ones in shelters, sitting in cages, getting minimal attention.  No one has time to get better pictures or to get to know their personalities, much less write descriptions for all of them.
Added to the seniors, there were:
My tears turn to anger as I think about the thousands more that are being born into the hands of puppy millers, backyard breeders, and those who simply have not bothered to spay/neuter.
Thousands more listed on Craigslist.
It's not that I wasn't aware of all this.  I am aware of it every single day.  Many, many nights I do not sleep because of it.
And we're only talking about Dachshunds.
You don't want to know the numbers if I search for all breeds.
You really don't want to know the numbers if I include cats.
So I can't do it today.
I can't pick just one sweet face to feature.
I'm sorry.
Most of the time, I put on my big girl pants and say, "Yes, there are millions of pets waiting for homes.  But today, I'm going to try to make a difference for this one."
But today, I just can't pick one.  Sometimes we just have to be honest.  But it hurts.  And readers don't like it.  And that hurts even more.
From my previous Tuesday's Tails posts: Franny and LuLu are still available.  Please check them out and share them if possible.  Thankfully, a few others that I have featured have found homes.  I expect to have a regular post for the hop next Tuesday with an adoptable dog to share.
Please visit the rest of the blogs participating in the Tuesday's Tail Blog Hop
and share the sweet faces you see.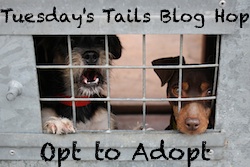 Barks That Sound Similar: