Tuesday's Tails: Featuring Pretzel – An Adoptable Dachshund
Today's Featured Adoptable Dog is Pretzel
Pretzel is a smooth-haired red Dachshund that has been with
Animal Rescue Foundation for quite a while now.
He is estimated to be nine years old,
but he certainly doesn't look it.
Pretzel's PetFinder page says that he is a sweet and friendly guy,
but is lacking much other information.
I do know that he has been waiting for adoption for quite some time
because he has been appearing in my searches
for adoptable Dachshunds for what seems like months.
Perhaps he is getting passed over due to his age, which always makes me sad.
Let's try to help Pretzel find a forever home soon!
For more information about Pretzel, you may contact:
Animal Rescue Foundation
Pet ID# TOKT 6123
Currently available for adoption
in Tulsa, Oklahoma
Phone: 918-622-5962
Email contact: Claire
thetallestgirlever@gmail.com
ARF does not adopt any adult pets outside of the Tulsa area
without excellent veterinary/health records for current or recent dogs or cats.
Animal Rescue Foundation can also be found on Facebook
---
This post is a part of the Tuesday's Tails Blog Hop,
kindly hosted by the friendly dogs and folks at Dogs N Pawz.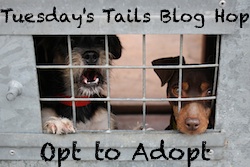 A little about this blog hop, via Dogs N Pawz:
This is the Blog Hop that features shelter animals. Find a cat, dog, rabbit, etc. at your local animal shelter or rescue and feature them on this Blog Hop! Come join the fun and help a furry friend find a forever home! And while you're at it, don't forget to visit the other blogs and share their doggies, cats, rabbits, and all the other animals that need forever homes on your social media sites. Please spread the word!
Barks That Sound Similar: