Tuesday's Tails: Maximus & Kiki – Adoptable Dachshunds
August is Senior Pets Month,
so today I have decided to feature not one,
but two adoptable seniors!
Maximus & Kiki
Slightly revised from their rescue page bio, written by their foster mom:
Maximus (11 years old) and Kiki (10 years old) have been together since the very beginning. They are true Miniature Dachshunds, with Maximus at 7 lbs and Kiki at 8 lbs.  They say that opposites attract and these two define that phrase. Maximus is very energetic and outgoing.  He is playful and vocal and will do just about anything for attention.  Kiki on the other hand is very laid-back and relaxed.  She too will vie for your attention but it just as content to curl up on your lap or next to you on the sofa and just snooze.  Because they are an older couple, they are very easy to care for.  Potty training was mastered a long time ago and the challenges of puppyhood are no longer an issue.
Maximus and Kiki are very tiny and very sweet.  Don't let their size or attitude fool you though; they would make wonderful walking pals for someone who enjoys a long stroll or a brisk walk.  Of course they love bed time and all its privileges which means they absolutely expect to sleep in the big bed.  No worries though, these two are so small you will hardly notice they are in bed with you.  They sleep well and eat well and once they learn your routine will be completely accommodating to your schedule.  This pair is one of the easiest Dachshund couples I have ever met.  Would you be willing to offer them a wonderful furever home?
For more information about Maximus & Kiki, you may contact:
Furever Dachshund Rescue
Foster ID# 2013-05337
Currently being fostered
in Franklin, Massachusetts
Foster contact: Laura
chair@fureverdachshundrescue.org
Out-of-state adopters are welcome, but FDR does not ship pets.
Please see Maximus & Kiki's page for more information on transport.
Furever Dachshund Rescue can also be found on Facebook and Twitter
---
This post is a part of the Tuesday's Tails Blog Hop,
kindly hosted by the friendly dogs and folks at at Dogs N Pawz.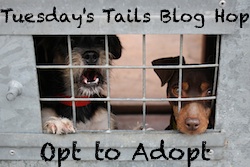 A little about this blog hop, via Dogs N Pawz:
This is the Blog Hop that features shelter animals. Find a cat, dog, rabbit, etc. at your local animal shelter or rescue and feature them on this Blog Hop! Come join the fun and help a furry friend find a forever home! And while you're at it, don't forget to visit the other blogs and share their doggies, cats, rabbits, and all the other animals that need forever homes on your social media sites. Please spread the word!
Barks That Sound Similar: