Tuesday's Tails: Featuring LuLu the Dachshund
Today's Featured Adoptable Dog is LuLu

LuLu is a longhaired Dachshund that has been with
Furever Dachshund Rescue for a quite a while now.
She is black with white chest markings and white-tipped paws.
Estimated to be about six years old – she is mature, but not quite senior.
Adapted from LuLu's Bio:
Hi there!  My name is LuLu and I'm looking for a furever home.  When you first meet me I am very shy, but with patience and time, you will eventually capture my heart.
I'm insecure when it comes to meeting new people and encountering new situations. I often look to the people I know/trust for comfort.  I will need a family that is sensitive to my fears, but understands that always codding me during these times will not help me overcome my apprehension.  Knowing what's expected (limits, rules and boundaries) helps ease my fears and will help me in becoming a more independent dog.  I would love to find a family that has experience with nervous or fearful dogs like me.  It really helps to know that someone understands.
It would also be great to find a home where I would have a well-mannered, outgoing canine companion to spend time with. I could learn a lot and eventually become more confident by watching the way they interact in the daily world.
Even though I have a little trouble with new people and situations, I'm a mature lady who knows how to take care of business.  I'm completely housebroken, crate-trained, and I walk well on a leash.  Give me a chance to show you what a sweet addition to your family I can be!
For more information about LuLu, you may contact:
Furever Dachshund Rescue
Foster ID# 2012-03172
Currently being fostered
in Franklin, Massachusetts
Foster contact: Laura
chair@fureverdachshundrescue.org
Out of state adopters are welcome, but FDR does not ship pets.
Please see LuLu's page for more information on transport.
Furever Dachshund Rescue can also be found on Facebook and Twitter
---
This post is a part of the Tuesday's Tails Blog Hop,
kindly hosted by the friendly dogs and folks at at Dogs N Pawz.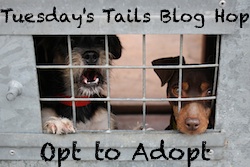 A little about this blog hop, via Dogs N Pawz:
This is the Blog Hop that features shelter animals. Find a cat, dog, rabbit, etc. at your local animal shelter or rescue and feature them on this Blog Hop! Come join the fun and help a furry friend find a forever home! And while you're at it, don't forget to visit the other blogs and share their doggies, cats, rabbits, and all the other animals that need forever homes on your social media sites. Please spread the word!
Barks That Sound Similar: