Tuesday's Tails: Featuring Lacey – An Adoptable Dachshund
Today's Featured Adoptable Dog is Lacey
Lacey is a smooth-haired brindle Dachshund
available for adoption from Noble County PAWS
At 13 pounds, Lacey falls into the "tweenie" size range
(larger than a Mini, smaller than a Standard)
She is adult, but not senior, at six years old.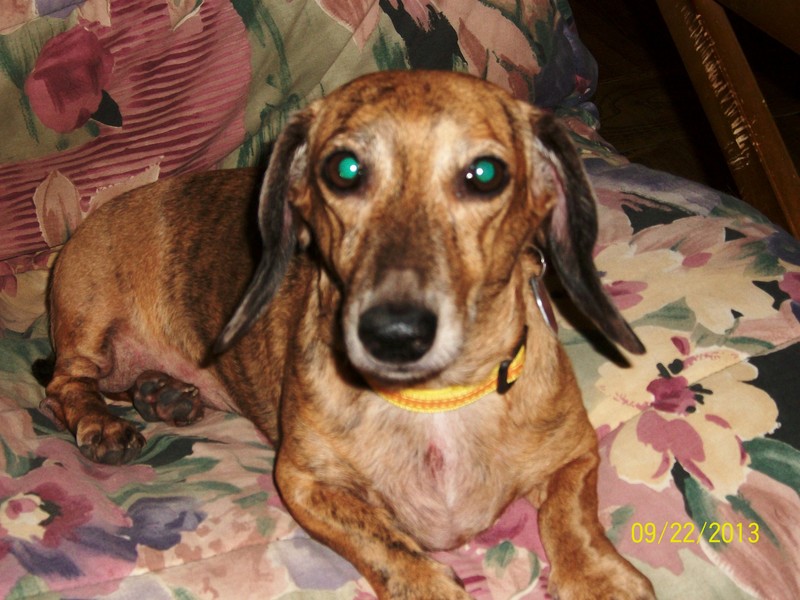 Lacey lived with her former owner since being purchased as a puppy, but he recently moved and could not take her where he was moving to.  She is now in foster care, and from what I understand, she is a very sweet girl.  She loves other pets, and like many Dachshunds, Lacey loves to be in your lap or on your bed under the covers.  She has not been socialized with children, and would not be suitable for a home with toddlers.  We called the foster mom (and head of the rescue, I believe), and she was firm on this.  I will admit that I am glad about that – it's for the safety of everyone.  Lacey is housebroken, and because her former owner lived in an apartment, she is used to going outside on a leash.  I'm sure it wouldn't take her long to get used to going in a backyard to take care of business if that's what her adopters prefer.
As Dachshund coat colors, markings, and patterns go, brindle is one of the rarer marking types.  I follow many, many, Dachshund rescues, groups, clubs, etc., and see thousands and thousands of pictures of Doxies; and of all colors/markings, I see brindle the least.  I know this is not important to most people, but I know that some folks like to have a "one of a kind" dog.  Well, a brindle Dachshund isn't exactly one of a kind, but you're likely not going to run into anyone else with a brindle in your area.  Possible, just not likely.  Many people might even say, "Ohhhh… I didn't even know Doxies came in brindle!"  You'll be the envy of Doxie lovers everywhere… okay, maybe just in your neck of the Doxie-loving woods. 😉
But Lacey doesn't know she's a brindle beauty and she doesn't want you to love her for her looks, anyway.  She's just looking for a new family that will give her the same unconditional love that she's ready to give.  Let's try to find Lacey a new home soon.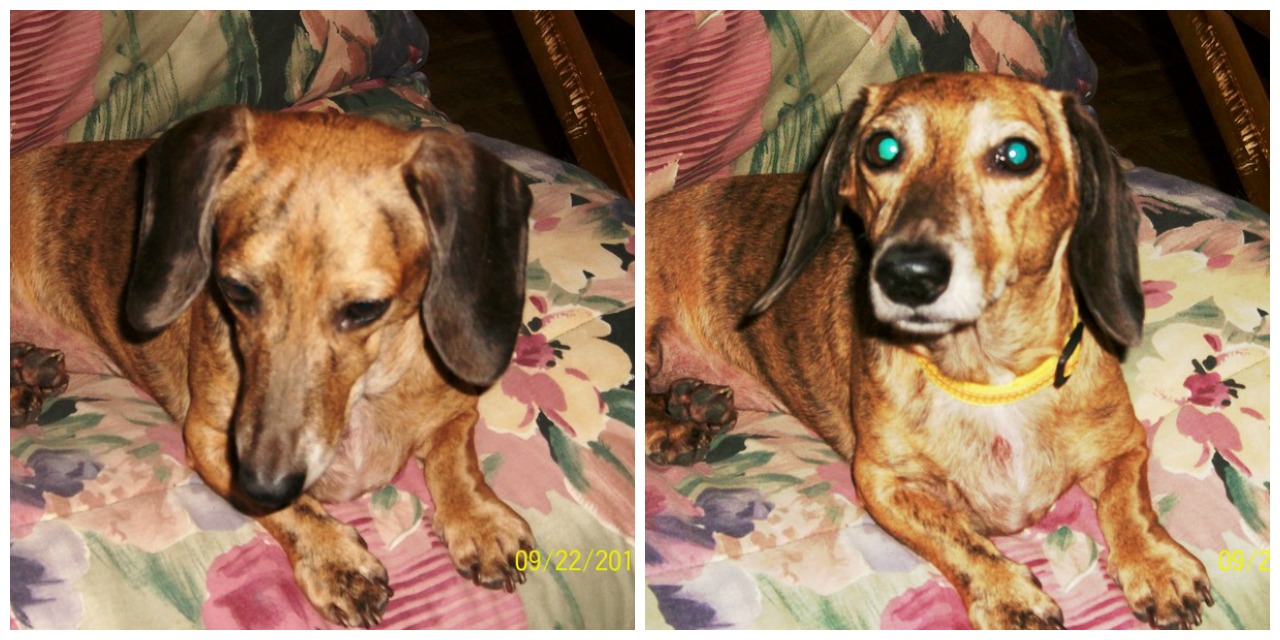 For more information about Lacey, you may contact:
Noble County PAWS
Pet ID# 6112412
Currently available for adoption
in Perry, Oklahoma
(Perry is about 80 mi west of Tulsa or 65 mi north of OKC)
Contact: Cheryl
Phone: (580) 336-3091
In addition to her PetFinder listing, Lacey is also listed at Adopt-a-Pet

---
Status of Previous Tuesday's Tails Featured Dogs

Hana – Hana was transported to a rescue in Minnesota and is still available for adoption.
Judson – Judson's page used to indicate that he was adopted, but now shows that he is available again.  I can only gather that he was adopted and returned.
Franny – Yay!  Franny was adopted!
Lulu – Lulu is still available for adoption.
Maximus & Kiki – This bonded pair was adopted (together)!
Ivy – Woohoo!  Ivy was adopted!
Serena – Woof!  Serena was adopted! (her page is no longer active and I confirmed it with a shelter rep that she was adopted)
Pretzel – Super handsome Pretzel is still available.
Geena – Super sweet Geena is still available.
---
This post is a part of the Tuesday's Tails Blog Hop,
kindly hosted by the friendly dogs and folks at Dogs N Pawz.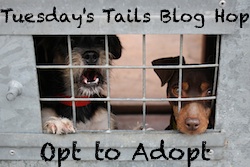 A little about this blog hop, via Dogs N Pawz:
This is the Blog Hop that features shelter animals. Find a cat, dog, rabbit, etc. at your local animal shelter or rescue and feature them on this Blog Hop! Come join the fun and help a furry friend find a forever home! And while you're at it, don't forget to visit the other blogs and share their doggies, cats, rabbits, and all the other animals that need forever homes on your social media sites. Please spread the word!
Barks That Sound Similar: