Tuesday's Tails: Featuring Geena – An Adoptable Dachshund
Today's Featured Adoptable Dog is Geena
Geena is a smooth-haired red Dachshund
available for adoption from Animal Rescue Foundation.
At 11 pounds, she would classify as a Mini.
However, she is estimated to only be about
a year old, so she may not be quite done growing yet.
I was having trouble choosing a Dachshund to feature today, but while perusing PetFinder, Geena's sad eyes caught mine and I knew she was the one.  I normally feature seniors, or at least middle-aged dogs, as they often have a harder time getting adopted; but super sweet Geena knows how to give the "Doxie eyes" quite effectively and she reeled me in.
Not much is known about Geena's history.  She was rescued from a shelter in a neighboring town, where she was picked up as a stray and sadly, never claimed.  Being in rescue, she is safe, but she is not currently in a foster home.  She is being boarded at a veterinary clinic, which is sometimes not a whole lot better than being at a shelter.
Let's try to help Geena find a loving furever home very soon!
For more information about Geena, you may contact:
Animal Rescue Foundation
in Tulsa, Oklahoma
918-622-5962
Potential adopters can meet Geena at
Carbondale Veterinary Hospital
Call 918-446-3501 for an appointment.

ARF does not adopt any adult pets outside of the Tulsa area
without excellent veterinary/health records for current or recent dogs or cats.
Animal Rescue Foundation can also be found on Facebook
---
This post is a part of the Tuesday's Tails Blog Hop,
kindly hosted by the friendly dogs and folks at Dogs N Pawz.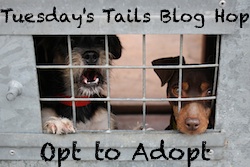 A little about this blog hop, via Dogs N Pawz:
This is the Blog Hop that features shelter animals. Find a cat, dog, rabbit, etc. at your local animal shelter or rescue and feature them on this Blog Hop! Come join the fun and help a furry friend find a forever home! And while you're at it, don't forget to visit the other blogs and share their doggies, cats, rabbits, and all the other animals that need forever homes on your social media sites. Please spread the word!
Barks That Sound Similar: