Tuesday's Tails: Featuring Franny the Dachshund
Today's Featured Adoptable Dog is Franny

Franny is a black & tan Dachshund that has been with
Furever Dachshund Rescue for a few months now.
At a bit over nine years old, she would classify as a senior.
But don't worry – she's in great shape… more on that below.
As mentioned above, Franny is a 9-year-old senior gal, but it doesn't slow her down.  She's in great shape because she gets 2-mile walks daily.  She has no medical conditions and doesn't require any medications.  At 11 pounds, she classifies as a Mini and for whomever adopts her, it will be important that she stays at a healthy weight.  She is used to eating 1/3 cup of food twice daily and getting carrot slices for treats.  If she gets less exercise, she would require a little less food.  Best to just keep up the exercise!  It not only keeps her fit and trim, but also keeps her more healthy overall, just like for humans.
She is missing her upper left canine, but it hasn't proved to be a problem in any way.   It's important to keep up with her dental health, so she gets her teeth brushed twice a week, but she doesn't really enjoy it too much.  Other than that, she is very easygoing.  She is crate-trained and is fine with sleeping in her crate.  Separation anxiety is common among Dachshunds, but it doesn't seem to be a problem for Franny.  When no one is home, she is fine in her crate with an exercise pen around it so she can have access to water.
She gets along with other dogs as long as they are not aggressive to her; and in fact, she really enjoys spending time with a Labrador Retriever friend that she gets to stay with sometimes.  She has not been around cats, so it is unknown if she is cat-friendly.  Like many Dachshunds, she may not do well with children.
Franny is pretty easygoing, but also has some typical Doxie-tude.  Nothing new if you're an experienced Doxie parent.  Barking at strange noises and protecting the family is to be expected.  She is not food aggressive, though.  She is also housetrained and is overall very well-behaved.
Franny is a great traveler and loves to go for long car rides – she just goes to her little bed in the car and enjoys the ride.  She also seems to have no problem being boarded if it is necessary.  She really has a great personality overall and would do really well with an older couple or an older single person who would just focus on her.
For more information about Franny, you may contact:
Furever Dachshund Rescue
Foster ID# 2013-07346
Currently being fostered
in Massachusetts
Foster contact: Liz
lizzyjono28@gmail.com
Out of state adopters are welcome, but FDR does not ship pets.
Please see Franny's page for more information on transport.
Furever Dachshund Rescue can also be found on Facebook and Twitter
---
This post is a part of the Tuesday's Tails Blog Hop,
kindly hosted by the friendly dogs and folks at at Dogs N Pawz.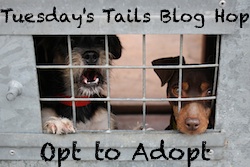 A little about this blog hop, via Dogs N Pawz:
This is the Blog Hop that features shelter animals. Find a cat, dog, rabbit, etc. at your local animal shelter or rescue and feature them on this Blog Hop! Come join the fun and help a furry friend find a forever home! And while you're at it, don't forget to visit the other blogs and share their doggies, cats, rabbits, and all the other animals that need forever homes on your social media sites. Please spread the word!
Barks That Sound Similar: