Trachea Chews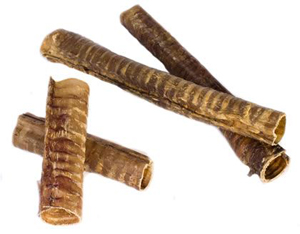 The baked or dried trachea of beef, lamb, or venison is proving itself to be an excellent alternative to rawhide.  Because the trachea is more commonly called the windpipe, trachea chews are also known by other nicknames, such as windies, windees, and moo-tubes.  Quality trachea chews are 100% natural, with no artificial additives, flavors, or preservatives.  A really neat feature of trachea chews is that they are not flattened before they are baked/dried – they remain hollow tubes, which means you can fill them with peanut butter or any other healthy filling you think your dog will enjoy. Trachea chews are known to be long-lasting, so that's more time spent on the chewing action that is so good for your dog's dental and gum health (and more time keeping him/her busy ;)).  But promoting good dental health isn't the only benefit of trachea chews.  They are also high in protein, low in fat, and because the outside of the trachea is lined with cartilage, they are naturally high in glucosamine and chondroitin, both of which are good for your dog's joint health.
As mentioned before, trachea from several different animal sources are available.  I have not determined (so far) that there are any benefits of one over the other, so which you choose is a matter of preference and knowing whether your dog has any particular sensitivities or allergies.  Lamb tracheae are smaller in circumference than beef tracheae, so that's something to consider if you have a smaller dog.  Whether beef, lamb, or venison, you can find trachea chews in various different lengths generally ranging from three inches all the way up to twelve inches, since the processors can simply cut the tracheae to any desired length.
The most widely available trachea chews are made in the US in USDA-inspected facilities from animals that are sourced from North America.  However, it is also common to find trachea chews that are made from South American-sourced cattle.  Some people prefer these particular chews because South American cattle are often free-range and grass-fed.  Which you choose to buy is entirely up to you, but make sure you read all the package information or contact the manufacturer so you know which you are getting.
★★★★★ Trachea chews get five stars from Dachshund Rescue List.  However, the rating is conditional.  The wieners subtract a star if they aren't filled with something tasty.
There are a number of different brands and manufacturers of trachea chews; and you can find them at limited local pet supply stores, but for a wider variety of options, as well as (usually) better prices, I would recommend purchasing them online.  Since there are so many choices in online shopping, I won't attempt to list all of the websites where you can purchase trachea chews.  I will instead recommend just a few sites and am absolutely certain that you can/will find other suppliers that you find suitable.  A few I would recommend are BestBullySticks, OnlyNaturalPet, PetFoodDirect, Amazon, HealthyPets, and EntirelyPets.  As always, shop around to find the highest quality at the best value!
Dachshund Rescue List (formerly Words With Wieners) did not receive any compensation (monetary or product) for this review.  Trachea chews were chosen for review because they meet the guidelines for being a recommended product here.  This is an honest review, comprised of personal research, product use, and personal opinion.  If there are links to a product in any of the reviews, a commission may be paid to me if you purchase the product through those links.  The commissions are small.  I do this because I love dogs, all dogs, even your dogs

and I care about their health.   Any commissions I receive as a result of a review do not impact my opinions of a product. Your dogs deserve for me to be nothing less than completely honest.  If I feel a product is worthwhile to be featured here, I will promote it. If not, I won't.  Period. 

Barks That Sound Similar: