The Straight Poop: Part 2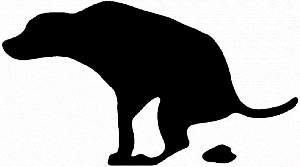 A while back I wrote a post called The Straight Poop and as one might guess, it was all about everyone's favorite part of being a pet parent: poo disposal.  Well, this is somewhat of a follow-up to that post because we have recently upgraded our methods of disposing of the doggy delights.
I'm not certain why we didn't think of it before, but recently it occurred to us to try out using a diaper pail.  Yes, a diaper pail.  Why not?  They actually make products similar to diaper pails for cat litter disposal, such as the Litter Locker, Litter Champ, Litter Genie, etc.  So I thought, why not use something like this for dogs?  Now, before I go any further, I know this wouldn't be ideal or even logical to use for large (or even medium) breeds.  But for small dogs, it should do the trick.  I mean, shouldn't it? *hopeful shrug*
I know what you're thinking.  Why am I discussing this like dealing with dog poo disposal is a new dilemma?  Well, for us, it's not new exactly, but it's not something we always had to deal with.  To explain:  I grew up with dachshunds, but was very lucky to not really be in charge of their waste disposal.  To be quite honest, I think my memory has even completely blocked that part out, because I can't remember exactly how my parents dealt with it.  I'm pretty sure it just got picked up and went out with the garbage.  Later, I lived in apartments for many years and didn't have any dogs for quite a long time :(.  I met my husband in 2001, and we still lived in an apartment when we adopted LittleBear in 2004.  When we would walk him around the apartment complex, we would pick up his doodads in a baggie and throw it conveniently in the apartment dumpsters.  Easy peasy.  So we never really had to contend with what to *do* with it before we moved into a house.
When we first bought our home in late 2008, we still only had just LittleBear at the time.  No biggie, he doesn't poop much.  But a short two months after moving in, we adopted Li'l Girl.  Hmm… two dogs' worth of poo now.  I'll admit, we sometimes put off cleaning it up, especially in the winter months.  It would dot the backyard like landmines, little brown frozen landmines.
LittleBear passed away in October 2012, and while we knew we'd eventually adopt another dachshund, we planned on not doing so until after a long period of grieving.  But you know things just happen sometimes… and happen, they did.  We ended up adopting Austin in December, right before Christmas.  So after a short period of being back to just one small dog's poo, we were back to two again.  [Edit – added later: We also adopted Ginger in November 2013, so now we're up to three].  But really, more like three and a half.  Austin is large for a dachshund – he is 18 pounds and is not overweight.  He has a classic dachshund body, but his legs are much taller than average.  And he makes a lot of poo.  A LOT.  It really seems like his output is much more than he takes in.  At first, we thought he might have digestion or malabsorption issues.  But we had our vet run blood and stool tests and nothing was amiss.  Nevertheless, he still gets added enzymes and probiotics with every meal, just in case.  His stools are firm and normal in appearance – there's just a whole lot of them.
Austin, Li'l Girl, and Ginger do most of their business in our backyard… only rarely making a deposit on walks.  So our challenge has always been where to keep it in between picking it up and trash day.  Previously, we would pick it up with small bags, which would go into a larger bag (such as a shopping bag), which would get tied off and stay in a "special spot" outside until trash day.  But even inside the bags, it would stink enough to attract flies.  We don't smell it, but the flies seem to know it's there.  There's got to be something else we can do.
As discussed in my previous post, I know that some folks use a Doggie Dooley, which is basically like a septic system for dog waste, but we're just not ready to try that.  I don't know why… we're just not.  Something about being too lazy to dig the hole for it, probably.
So looking at other options… I find flushable poo bags!  Superb idea!  These seem like the perfect solution!  Wait.  I don't want to bring bags of poo inside the house to flush.  I know, that seems weird… but I just don't.  Something about bringing poo INTO the house just hits me wrong.  Now, if you're using flushable bags, more power to you.  I applaud your ability to carry poo into and through your house to flush it.  Letting the municipal wastewater system handle the business is probably the ideal thing to do.  Probably even the most environmentally friendly.  But I just can't do it… at least not yet.
So, what else? And that's when the diaper pail idea hit me.
I first looked at and compared all the cat litter disposal products I mentioned earlier, then I researched and compared 4-5 diaper pails.  I don't have any children, so I've never used a diaper pail before and didn't have any personal experience to go on.  After much deliberation, I went with the Arm & Hammer Diaper Pail by Munchkin.  The moment I took it out of the box, I knew I'd made the right decision.  The clouds parted.  The hallelujahs started.  It's a brand new day!  My poo problems are solved!  Okay, not really.  But I was… and I really hesitate to admit this… I was anxious for the dogs to poop next so I could try it out.  This is where you understand that not much excitement happens around here when I'm thrilled about something like a diaper pail for dog poo.  Now, you're probably thinking, "Okay, so you're not willing to carry bags of poo through your house, but you're willing to have pail of poo sitting around?"  No… we're actually keeping it outside.  If it begins to rain, we simply pull a trash bag over it to protect it from getting water inside.
Below is a video to show how it works.  Just pretend that the folded up diaper she's putting in is a small bag of dog poo.
** I thought about making a demonstration video of my own… and I still might later.  But this video gives you the idea without having to see me mess with actual dog poo. 
You can't see it very well in the video, but every close of the lid causes a set of interior flaps to rotate, which twists the bag and seals off odors.  Not only does the pail not stink while sitting there, but you don't get a lovely blast of odor each time you open it.  About the baking soda: honestly, it's a nice touch but I don't know how much it's really contributing to odor control since only a little sprinkles out with each use.
In summary, while our method of poo disposal (and temporary storage until trash day) is essentially the same as before: small bags inside of a larger bag; using the diaper pail is a much cleaner, more organized, less stinky system.  It really just feels more sanitary, whether it truly is or not.
Because I know that many of you reading have much larger dogs and perhaps even more than one, I'm really very curious how you handle disposing of what I can only assume is much more poo than we have to deal with.  Do you throw it away with the garbage?  Where do you put it all until then?  Do you have a Doggie Dooley?  Do you use the flushable bags?  Do tell.
Top Photo Credit: ButterFunk
Disclosure: There are a few affiliate links in this post.  If you make a purchase through those links, we may receive a small commission.  25% of all commissions received goes to animal rescue.

This post has been included in the Saturday Pet Blogger Hop!


Barks That Sound Similar: