Thankful Thursday: Thank Yous & Good News
I don't have a lot of time, but since I was a big ol' worrying baby and posted something personal yesterday, it's only fair that I update on that.
Disclaimer: This post isn't about dogs, so if you only like reading about dogs… stop reading here.  This is just about boring old me.  Following today's post, I hope to be back to only talking about things with four legs and fur.
Second Disclaimer:  If you don't want the details – everything is okay and the worry was (mostly) for nothing.  You can stop reading here.  If you like details and don't mind getting into the personal stuff, then keep reading.
If you're still here…
First, thank you SO MUCH to everyone who left me kind thoughts, well wishes, prayers, and overall good juju yesterday!!  It really meant a lot to me.  Blogville peeps are the very, very, very best!
Second, I never thought I'd be so happy to hear the words 'Fibrocystic Breasts'.  I can smile and laugh about it now, but nothing was funny on Tuesday.
That day, I was having my oh-so-fun well-woman exam, and the doc found a lump while doing the breast exam.  "Oh yes, there's definitely a lump over here. We're going to refer you for a mammogram, and they may also do an ultrasound," she says, as she's pinching a particular spot and jotting notes about how big she thinks it is.  "Is this tender?"  Hell yes, it's tender!!  Stop manhandling the thing!
I didn't say that.  But I wanted to.  No matter, as it was nothing compared to the "big squeeze", or rather, many big squeezes, that I experienced today.
I'm not yet at the recommended age to start having screening mammograms, so I've never had one before.  Well, this was supposed to be a diagnostic mammogram, and they take more views than they do on a screening mammogram.  Oh.  Oh good.  Because this squashing business is awesome.  And I love having my breasts irradiated.  Please do take a few more views.
I jest.  Yes, it was very uncomfortable, sometimes even plenty darn painful, but it wasn't intolerable.  My gals… although their spirits have been crushed… will live to see another day.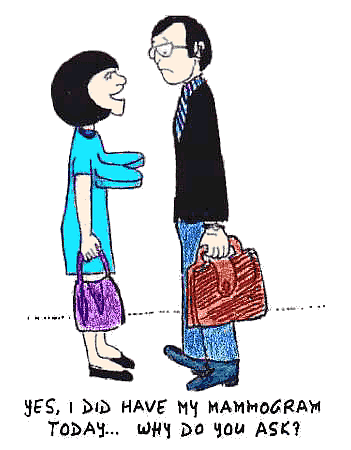 After the mammogram, I sat in a small waiting room with some other half-gowned ladies waiting for our next turn in the cattle line.  Ultrasound was up next for me… can't say for the others.
My name was called and I met with a very nice sonographer who probed a bit in the problem area with the magic wand (okay, it's called a transducer) and immediately asked me if I consume a lot of caffeine. Hmm… should I tell her that I live for coffee?  I get a sheepish look on my face and she says, "It's okay, hon… we all do."  So then I spill the beans.  The coffee beans, as it were.  And she confesses her addiction as well, except that her drug of choice is tea.  We chat like old pals about our vices.  Anyway, she tells me that if nothing else is found, that cutting back on caffeine (or eliminating it completely, if possible) helps a lot of women who have fibrocystic breasts, if that is indeed my problem.  She also asked if I take Vitamin E, and if so, how much?  I do, and 200 IU.  She suggests that upping it to 400 or more might help and I can discuss that with the doctor who will be in in a moment.  He's going to wand me some more and talk about everything.  Super.
Doc comes in, wands a bit more, though oddly very gently in comparison to the sonographer.  Sometimes you really have to press to get good views, so frankly I would've been fine if he was a little more aggressive.  Gosh, this is sounding saucy.  Believe me, it wasn't at all saucy.  He tells me that he isn't seeing any abnormal tissue and he thinks that I probably just have fibrocystic breasts.  This is going to sound strange, but I swear he seemed disappointed to be giving me good news.  The sonographer was still in there, of course, and brought up the whole reducing caffeine/upping Vitamin E spiel again and the doc agreed.  He recommended that I do self-exams once a month and let my regular doc know if I noticed any new or different lumps.  I told him that self-exams were difficult because I can always feel lumps here and there.  He said, "Yes, they're often going to feel lumpy, but only YOU know if something is new or different.  Your doctor isn't going to remember what your breasts feel like."  Well, jeebus Doc, I hope not.  That would be downright creepy.
Again, not something I said out loud.
So yeah, that's it.  Unless they missed something (I always have that paranoia), there is no c-word to worry about.  I can safely and fibrocystic breastically get back to talking about dog stuff and you'll never, ever have to hear such personal information about me again.
I can only hope that BlogPaws doesn't decide to pull their network ads due to unauthorized overuse of the word 'breasts' in a post.
Image credit: Dobhran's Humorama