Sweet Potato Chews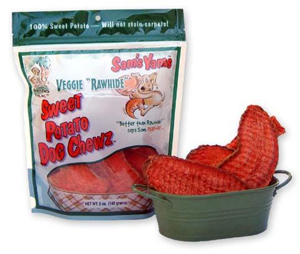 One of the best alternatives to rawhide, in my opinion, are sweet potato chews.  There are a number of brands and varieties available, but my personal favorite are Sam's Yams®, made by Front Porch Pets.  Austin and Li'l Girl are absolutely beyond excited when they know they getting a sweet potato chew.  LittleBear wasn't really an enthusiastic chewhound, but these were one of the few chews even he could be thrilled for.  Being dachshunds, their weight needs to be managed carefully, so they don't get chews as often as they'd like.  But I can be confident that when I do offer them Sam's Yams®, that they are getting an all-natural product, made of one simple ingredient.
Sam's Yams® are made from dehydrated sweet potato and nothing else – there are no additives, fillers, etc.  The sweet potatoes are grown, processed, and packaged in the USA.  These chews are 100% digestible and are highly nutritious, especially when compared to artificially formed chews.
★★★★★ Sam's Yams® get five stars from Dachshund Rescue List.  The wieners argued that we should give the orange rats (their words, not mine) ten stars.  I decided not to tell them they were just eating boring ol' sweet potato.
Sam's Yams® come in three sizes:
Small, called Bichon Fries – These are made only of sweet potato, but are cut small (like french fries).  They are ideal for toy or very small breeds as a chew, and could be used for large dogs as a treat.  The testers haven't tried this size yet, as I fear they would disappear in a flash into a face that only says, "Next."
Regular, simply called Veggie Rawhide – These are probably the most popular size and are an excellent chew for all dog sizes.  Made of whole thick slabs of sweet potato, dehydrated… and nothing else.  The chews have a hard, textured surface, excellent for helping to clean teeth and massage gums; and have great chewability.  I'm almost tempted to try one myself.  Almost.  Very small breeds will chew these for fifteen to twenty five minutes. Small to medium breeds will finish them a bit faster, of course.
As a testament to the suitability for most dog sizes, this is the size I give to my rapacious little hounds.  When I don't want them to have a whole piece, I simply cut them in half with scissors.  Even though they are a good tough chew, they are surprisingly easy to cut into smaller portions.  I'll be honest,
Large, called Big Boyz – Very similar to the regular size above, with the same dental benefits; but thicker and larger in size.  They are designed for larger breeds, but smaller dogs will enjoy them as well and they will last them a good long time.  These are made from very thick slabs of sweet potato, but each slice is perforated in order to assist in the dehydration of such a large piece. Each Bigs Boyz size chew has the nutritional value of half of a large sweet potato.
◊ Side note, all Sam's Yams® dog chews are particularly well-suited for senior dogs whose teeth and gums are more sensitive.
◊◊ After your dog eats a Sam's Yams® chew, you might notice that their next stool is mostly orange or partially orange.  This is normal and nothing to worry about.  With my two, they will usually have a stool that is half normally-colored and half orange-ish.
Sam's Yams® can be purchased from a number of local and online retailers.  You can purchase them from the Front Porch Pets website directly, however, you can often find better prices at the following retailers – it's worth it to shop around! – EntirelyPets, HealthyPets, OnlyNaturalPet, PetFoodDirect, Amazon, BestBullySticks, and more.  Always shop around to make sure you're getting the best deal!
You can find more information about Sam's Yams® at the Front Porch Pets website by clicking here.
Sam's Yams® are a registered trademark of the Front Porch Pets brand.
Dachshund Rescue List (formerly Words With Wieners) did not receive any compensation (monetary or product) for this review.  Sam's Yams were chosen for review because they meet the guidelines for being a recommended product here.  This is an honest review, comprised of personal research, product use, and personal opinion.  If there are links to a product in any of the reviews, a commission may be paid to me if you purchase the product through those links.  The commissions are small.  I do this because I love dogs, all dogs, even your dogs

and I care about their health.   Any commissions I receive as a result of a review do not impact my opinions of a product. Your dogs deserve for me to be nothing less than completely honest.  If I feel a product is worthwhile to be featured here, I will promote it. If not, I won't.  Period. 

Barks That Sound Similar: