SmartBones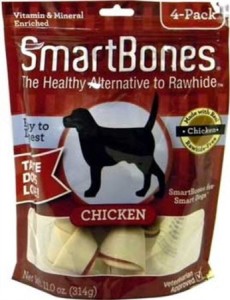 Since SmartBones are specifically marketed as the The Smart Alternative to Rawhide, I wanted desperately to be able to recommend them.  However, they break four(!) of the rules for inclusion here at Dachshund Rescue List:
Consequently, we cannot recommend SmartBones as a good alternative to rawhide at this time.  Should they ever change their formula or begin manufacturing their product in the US, that could change.
It is important to note that just because we don't recommend a product does NOT mean it's a bad product or that it wouldn't be suitable for your dog – it simply means that it doesn't meet the requirements to be included as a featured product here at Dachshund Rescue List.
☆☆☆☆☆ SmartBones do not have a star rating at this time.  Since the wieners don't any chew that breaks the rules, it would be unfair of us to rate an untested product.
SmartBones® is a registered trademark of PetMatrix, LLC

Barks That Sound Similar: