Pet Peeves Monday: Deceptive Marketing
When it comes to what we feed our pets, some of us are already fiendish label readers.  We want to know every single ingredient that will be making its way into their fuzzy little bellies.
But I know that some folks still trust the slick marketing use of words like natural/nature, and I just want to encourage them to ignore those words from now on.  Forget what it says on the front of the bag, pouch, or can.  Turn it around and really read those ingredients.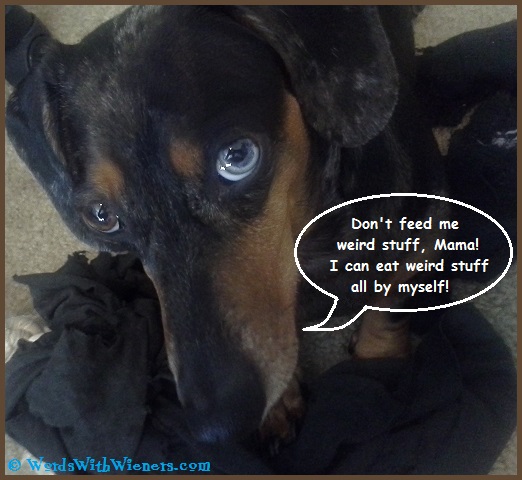 An Example of Deceptive Marketing
I hate to single out and pick on one company, because their are many offenders out there, but I'm going to show an example of the kind of misleading marketing I'm warning you about.  In this example, I'm going to use a specific product from a company called Nature's Recipe.  I know that this particular company makes quite a few different products, some of which might live up to its name.  But the product I will discuss below does not.
Nature's Recipe: The name sounds good, huh?  Sure, you want your pet to eat food like it was meant to be… like good ol' Mother Nature intended.  Anyone could be fooled by that name.  Many companies also have a tagline, or a slogan.  The tagline for Nature's Recipe is: Every Ingredient Counts.  Boy, they're really pushing it.  Without reading the back of the label, you're thinking that this product is a) natural and b) that this company really pays attention to every single ingredient, and only wants to include the best ingredients for your pet.
But you cannot trust the name or the tagline, as we're going to see below.  I'm going to break down my example product, ingredient-by-ingredient.  If you don't have time to read the descriptions, that's okay… you can just skim the ingredients in bold.
Nature's Recipe Soft & Chewy Training Dog Treats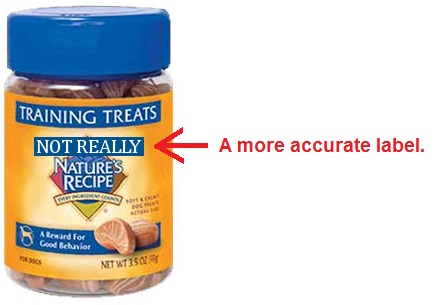 Ingredients (bear in mind that ingredients must be listed in order of volume):
Chicken – Good/Acceptable
Corn Syrup – Would rather not see a sweetener as the second ingredient.  Also, many dogs are allergic to corn products
Soy Flour – Many dogs are allergic to soy products – better alternatives would be potato flour, barley flour, oat flour
Wheat Flour – Many dogs are allergic to wheat products – see better alternatives above.
Corn Starch – More corn – a better alternative would be tapioca starch.
Water Sufficient for Processing – Neutral/Good
Propylene Glycol – An additive produced from propylene oxide.  Classified as GRAS  (Generally Recognized as Safe) by the FDA for humans, as well as for dogs, but not cats.  In cats, propylene glycol has been shown to cause a blood condition called Heinz body anemia.  Has a number of applications in pet food, but I'm guessing in this case, it's serving as a humectant (substance used to keep things moist).  Considered GRAS or not, its use in food applications has been controversial because it is the key ingredient in many industrial products such as antifreeze/coolants, brake/hydraulic fluids, paints/coatings, urethanes, etc.  What really concerns me here is that its the sixth ingredient down.
Animal Fat (with BHA used as a preservative) – Usually obtained from the rendering of tissues of non-specified animals, often remnants of our own meat packing process for those scraps which are not fit for human consumption.  Common practice is to heavily preserve already rancid fats, with chemical preservatives (such as BHA, BHT and Ethoxyquin) to prevent further deterioration.  We see that BHA (butylated hydroxyanisole) has been used here.  Not only is it unnatural, but it's a potential carcinogen.
Animal Digest – According to the FDA, digests are materials treated with heat, enzymes and/or acids to form concentrated natural flavors.  For example, only a small amount of a "chicken digest" is needed to produce a "Chicken Flavored Cat Food," even though no actual chicken is added to the food.  From other sources, I understand that animal digest can be made from unspecified animal parts, and that there are no rules governing quality or contamination.  Waste from restaurants/supermarkets/butchers can be used, as well as even animals in the 4D category (dead, diseased, disabled, or dying).  Oh yay!  Hmm, how about just using an actual natural flavor instead?  Because animal digest is cheap, that's why.  It's a by-product made of trash.
Calcium Sulfate – A naturally occurring mineral in the forms of gypsum or anhydrite; it is also a by-product in a number of processes.  Often used as a desiccant (drying agent) or coagulant in food.  It does appear on the FDA's GRAS (Generally Recognized as Safe) list of additives.  Probably not going to hurt your pet, but not necessary either.
Soy Protein Concentrate – This is basically defatted soy flour without the water-soluble carbohydrates.  Can be used as a functional or nutritional additive.  Not sure if it's used in this case to increase the protein content or as an emulsifier or both.  Not necessarily bad, but as mentioned earlier, many dogs are allergic to soy products.
Sugar – Corn syrup already appears as the second ingredient – we really don't need another sweetener.
Beef – Good, but too far down the ingredient listing to have any significant nutritional benefit.
Salt – Acceptable in this small amount.
Potassium Chloride – Potassium is a mineral necessary for the proper function of many body systems.  However, it is sometimes also simply used as a salt substitute for food, but due to its weak, bitter, unsalty flavour, it is usually mixed with ordinary table salt for this purpose to improve the taste.  Do not know if it's included in these treats for nutritional value or as an attempt to to add more flavor.
Titanium Dioxide (color) – A naturally-occurring mineral, but not a nutritive mineral for humans or pets.  Most commonly used as pigment for industrial and food uses.  Has a high refractive index and is a key ingredient is nearly almost all suncreen products.  Not known to be toxic when ingested in small amounts.  Found to be possibly carcinogenic only when inhaled as a fine dust.  It is indicated that it used in these treats as a coloring, which is totally unnecessary.  Your dog doesn't care what color his/her treats are.
Phosphoric Acid – Has many industrial uses.  Often added to food products to add tangy or sharp flavor (very common ingredient in soda pop), or as a preservative.  In this case, I'm thinking preservative.  Not known to be toxic in small doses – likely harmless to your pet.
Sorbic Acid (used as a preservative) – Natural organic compound that is a very common food preservative used to inhibit fungal and bacterial growth.
Garlic Powder – Natural.  Not known to be toxic in very small amounts.
Caramel Color – One of the oldest and most widely-used food colorings, and is GRAS by the FDA.  There are four different classifications of caramel color, depending on the reactant used in their manufacture.  Commercially-produced caramel color has been determined be no more toxic than caramel produced by cooking or heating sucrose, except for those prepared using ammonium (Class III and IV).  It is unknown which class is used in these treats.  Certain caramel color has been found to be contaminated with two cancer-causing chemicals and it looks like it's still a problem as recently as this month.  Regardless, the amount of caramel color in these treats is not likely enough to be harmful to your pet in any way.  However, it's still completely unnecessary.  There is no need for artificial colors.  Again, your dog doesn't care about the color.
Natural Smoke Flavor – The main ingredient in natural smoke flavor is known as AM 01, which is usually derived by making a solution from the hot vapors produced by burning beech wood.  Its safety has been debated.  The European Food Safety Authority (EFSA) has expressed concerns about genotoxic compounds.  So, perhaps safe, perhaps not… but another unnecessary ingredient.  Called "natural", but as far as I'm concerned, liquid smoke isn't natural… and certainly not something an animal would consume in a natural environment.
Red 40 – Also known as Allura Red AC.  Artificial color.  Made from petroleum.  Its safety has been debated, and it has been banned in many European countries.  Unnatural and unnecessary.
BHA (used as a preservative) – This was covered earlier.  Not good.
Citric Acid (used as a preservative) – Weak organic acid.  It occurs naturally in citrus fruits, but is produced in high volume by fermentation.  It has many industrial uses, but is used here as natural preservative.  As preservatives go, I'm okay with this one.

Yellow 5 – Also known as Tartrazine.  Artificial color.  Like Red 40, it is made from petroleum.  Its safety has also been debated and it has been banned in several European countries with warnings in others.  Again, unnatural and unnecessary.

Yellow 6 – Also known as Sunset Yellow FCF.  Artificial color.  More difficult to find information on – even the Wiki page was lacking a lot of citation.  Concerns seemed to be similar to Yellow 5, though and there have been urges to ban it.  One more unnatural and unnecessary ingredient.  

Twenty-six ingredients… most of which are, to put it most unscientifically: crap.  Very little about these treats sound like "Nature's Recipe" to me.  In fact, I'm certain you won't find this recipe anywhere in nature.  "Every Ingredient Counts", huh?  Counts to what?  The number of years one should subtract from their dogs' lives by feeding artificial hodge-podge treats such as these?
Why Pick on These Treats and Not Other Junk?
But there are tons of junk food for pets on the market!  Why am I picking on these particular treats?  Why not pick on the hundreds of other junky dog treats?  I'm picking on these specifically because of the misleading name and tagline.  Because I am irked that companies continue to use deceptive names, slogans, and taglines in an effort to dupe consumers into believing they are buying something good for their pets.  I am tired of seeing people fooled by clever marketing.
Perhaps you, as a reader, aren't fooled and have never been fooled.  "Well, *I* would never give those to my dog.  *I* always read the labels and pay attention to what I feed my dog(s)," you say.  And I believe you.  But, a lot of people are being fooled.  I looked at reviews for these specific treats at many different retailers and they had an average review score of 4-5 stars across all those retailers.  People are buying these treats and reviewing them highly simply because their dogs gobbled them right up.  I am not psychic and haven't interviewed these buyers, but I'd bet dollars to doughnuts that they trusted the healthy-sounding name and didn't even read the ingredients.  And I'm not blaming them for that… I blame the shady marketing practices.  But I want them to get out of the habit of trust and get into the habit of reading.
If we want our pets to thrive and be our companions for as long as possible, we simply must pay attention to what we feed them.  Will it kill them if they have this junk once in a while?  Probably not.  But why not give them something better?  There are so many better treats to be used, whether store-bought or home-cooked.
Price Worries
If cost is a concern, let me offer you a price comparison.  There are many training treats out there with better ingredients than the "bad guys" I pointed out above.  We happen to use Zuke's Mini Naturals pretty often, and I most often buy them at Chewy.com while I'm getting other food/supplies, so Chewy is what I will use for a comparison.  Bear in mind that prices vary among retailers.
Nature's Recipe Soft & Chewy Training Dog Treats – $2.59 for a 3.5 oz jar or $3.59 for a 7 oz jar = 74 cents per ounce or 51 cents per ounce
Zuke's Mini Naturals Roasted Chicken Recipe Dog Treats – $4.97 for a 6 oz bag or $7.99 for a 16 oz bag = 83 cents per ounce or 50 cents per ounce
At first glance, the Nature's Recipe appears to be cheaper.  But as you can see, when broken down by ounce, the pricing comes out to be very similar.  So when price is a factor in the products you choose for your pets, be sure to take a deeper look, because what appears to be cheaper isn't always so.
Summary:  Some products that call themselves natural really are such.  Some are not.  The important thing is to ignore names and slogans, and instead base your decisions on the ingredients.  Also, look into the company, its background, and its production facilities.  Be happy with what you feed your pets.  Don't feel bad if they get junk occasionally.  It happens.  I'm sure the little nibbles of mac & cheese I shared with the wieners on Friday night wasn't GREAT for them – it probably wasn't great for me.  But I know exactly what it was.  It wasn't parading around calling itself a salad 😉
Disclaimer:  We have never used Nature's Recipe Soft & Chewy Training Dog Treats.  I know I slammed them pretty hard, and I did so based on ingredients alone, not based on personal experience with the product.  Also, the choice of treats for price comparison was random.  There are plenty of other great training treats out there, and we have used others that we liked.

Nature's Recipe – Every Ingredient Counts is a registered trademark of the Del Monte Corporation