Lamb Weasands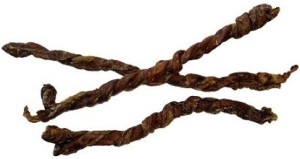 Weasand is another word for esophagus or gullet.  Dried lamb weasands can be an excellent alternative to rawhide, especially for dogs with allergies or those already on lamb-based diet.  The lamb weasands are usually twisted together to form a chew.  Because they are somewhat thin, lamb weasands serve as a chew for small and toy breeds, but more of a jerky-type treat for large breeds, who can often devour them pretty quickly. They range in length, but are usually between ten and fifteen inches.  The best lamb weasands are made from US free range lamb; and are 100% natural, with absolutely no additives or preservatives.  In addition to helping to promote good dental health, lamb weasands are high in protein, as well as naturally high in glucosamine, which aids in joint health.
★★★★☆ Lamb weasands get four stars from Dachshund Rescue List.  The wieners subtracted a star because they are tasty, but just don't last long enough.
Again, most lamb weasand chews come from US free range lamb, but sometimes the source isn't listed in the product description.  I recommend against purchasing any chew where you cannot determine the source country, even after an email/phone call to the retailer or manufacturer.  From what I have researched, it doesn't looked like lamb weasands are widely manufactured – there doesn't appear to be a great variety of brands to choose from.
Locally, you will probably only find lamb weasands at very specific pet supply stores, perhaps those in your area that focus mainly on all-natural products.  It is unlikely you will find them at the big box stores.  Online, I have found them at BestBullySticks, Amazon, NaturalBullySticks, and WholePetMarket.  They can be found at a few other retailers, but mostly only in large bulk supplies that an individual would be unlikely to purchase.
**Edit: We recently reviewed some tasty chews from BestBullySticks.com, including some lamb weasands.  Please see this review for more information on weasands specifically from BestBullySticks.
Dachshund Rescue List (formerly Words With Wieners) not receive any compensation (monetary or product) for this review.  Lamb weasands were chosen for review because they meet the guidelines for being a recommended product here.  This is an honest review, comprised of personal research, product use, and personal opinion.  If there are links to a product in any of the reviews, a commission may be paid to me if you purchase the product through those links.  The commissions are small.  I do this because I love dogs, all dogs, even your dogs

and I care about their health.   Any commissions I receive as a result of a review do not impact my opinions of a product. Your dogs deserve for me to be nothing less than completely honest.  If I feel a product is worthwhile to be featured here, I will promote it. If not, I won't.  Period. 

Barks That Sound Similar: