Himalayan Dog Chews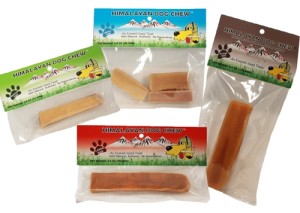 Himalayan Dog Chews are 100% natural dog chews that are an exciting alternative to rawhide.  These chews are made to be very hard, but soften with continual gnawing and chewing action.  Dogs must work the end of the chew for a long period of time, softening it with their mouths before small parts of it can be slowly whittled off.  Himalayan Dog Chews can last hours, days, or even weeks, depending on the dog.  There are certainly reports of large dogs and/or very aggressive chewers being able to conquer them in a matter of thirty minutes, but for most dogs, these chews really shine as a long-lasting rawhide alternative.  Also worth noting is that they are very high in protein, while being very low in fat.
Himalayan Dog Chews are made of only four all-natural ingredients: yak milk, cow milk, lime juice, and salt.  Don't worry, the amount of salt is negligible – only 10 mg of salt is used per every 100 gallons of milk.¹  You might be thinking, isn't milk bad for dogs?  Well, milk can be difficult for some dogs to digest, but the cooking process required to make Himalayan Dog Chews actually alters the protein, making it more easily digested.  The process also removes most, if not all of the lactose; so no worries for dogs that are lactose-intolerant.²
★★★★★ Himalayan Dog Chews get five stars from Dachshund Rescue List.
Himalayan Dog Chews come in five different sizes:
Small – 3.5 oz (3-5 pieces in package – sold by weight) – Best for dogs 20 lbs or smaller
Medium:  2.5 oz – Best for dogs 20-40 lbs
Large – 3.5 oz – Best for dogs 40-80 lbs
Extra Large – 6.0 oz – Best for dogs 80+ lbs
Big Dog – 7.5 oz – Best for dogs 80+ lbs
The size recommendations above are just loose guidelines.  You know your dog best and know how voracious of a chewer he or she is.  Many people even give the larger sizes to their small dogs with no problem – it just allows for the chew to last longer.  No matter the size of your dog, once the chew reaches the point where it could be swallowed whole, it is advisable to take it away.  But don't worry, the piece doesn't have to go to waste.  When microwaved, a leftover piece will puff up about 3-5 times its original size, turning into a puffy treat that is neither hard nor soft, but somewhere in-between.  Be careful to let it cool completely before offering any of it to your dog.
You can find Himalayan Dog Chews locally by checking out the store locator at their website.  However, they can also be found at a number of online retailers, including EntirelyPets, HealthyPets, OnlyNaturalPet, Amazon, BestBullySticks, and more.  Always shop around for the best prices!
Himalayan Dog Chew™ is trademarked by the Himalayan Corporation, DBA Himalayan Dog Chew
Dachshund Rescue List (formerly Words With Wieners) did not receive any compensation (monetary or product) for this review.  Himalayan Dog Chews were chosen for review because they meet the guidelines for being a recommended product here.  This is an honest review, comprised of personal research, product use, and personal opinion.  If there are links to a product in any of the reviews, a commission may be paid to me if you purchase the product through those links.  The commissions are small.  I do this because I love dogs, all dogs, even your dogs

and I care about their health.   Any commissions I receive as a result of a review do not impact my opinions of a product. Your dogs deserve for me to be nothing less than completely honest.  If I feel a product is worthwhile to be featured here, I will promote it. If not, I won't.  Period. 

Barks That Sound Similar: