Greenies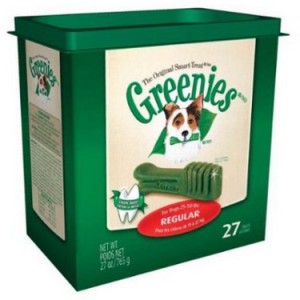 Greenies are a very popular dental chew for dogs.  They are marketed as being the #1 veterinarian-recommended dental chews and clinically proven to provide a total oral health solution.  I really wanted to be able to recommend Greenies, as it seems they are already being given to so many dogs.  However, they break one of our rules for inclusion: the second ingredient is a wheat ingredient.
From what I have researched, there used to be many reports of Greenies resulting in bowel obstructions or choking episodes; leading to vet visits, surgeries, and sadly, even deaths.  The formula has since been changed and reports of problems are much fewer.
However, since they still break one of our rules, we cannot recommend Greenies as a good alternative to rawhide at this time.  Should they further change their formula to be wheat-free, that could change. As always, it is important to note that just because we don't recommend a product does NOT mean it's a bad product or that it wouldn't be suitable for your dog – it simply means that it doesn't meet the requirements to be included as a featured product here at Dachshund Rescue List.
☆☆☆☆☆ Greenies do not have a star rating at this time.  Since the wieners don't test any chew that breaks the rules, it would be unfair of us to rate an untested product.
Greenies® treats are a registered trademark of the Nutro Company

Barks That Sound Similar: