Get Naked Dental Chews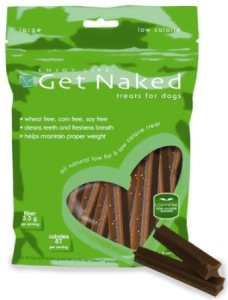 Get Naked dental chew sticks are natural and highly digestible dental chews for dogs.  They can be offered as an alternative to rawhide and/or alternative to real bones.  Like other dental chews, Get Naked dental chew sticks are meant to help clean your dog's teeth and freshen their breath.  However, an added bonus is that there are five varieties available, each of which features different ingredients for additional health benefits.  All varieties except the Puppy Health formula are promised to be low in fat and calories.  For the allergy-conscious, all five varieties of Get Naked dental chew sticks are free of wheat, corn, soy, and gluten.
★★★★☆  Get Naked dental chew sticks get four stars from Dachshund Rescue List.  Great ingredients and awesome taste, but the wieners subtracted a star because they just don't last long enough.
Sizes:
Small Stick – 6.3 g / 0.22 oz (the size the wieners get)
Large Stick – 31.2 g / 1.10 oz
Varieties:
Gut Health – with added prebiotics & probiotics, as well as an herbal blend that soothes the stomach
Joint Health – with added glucosamine & chondroitin
Low Calorie – with dietary fiber to give a "full feeling", which helps reduce overeating; while added L-Carnitine helps burn fat
Puppy Health – with added DHA to help with cognitive development and calcium for healthy teeth and bones
Super Antioxidant – fortified with a blend of vitamin C, vitamin E, cranberries, blueberries (pomace), pomegranate, and decaf green tea extract
Get Naked dental chews sticks seem to be fairly limited in local stores, but can be purchased from a variety of online retailers including PetFoodDirect, EntirelyPets, HealthyPets, Amazon, Chewy, Wag, and more.
You can find more information about all varieties of Get Naked dental chews sticks at the N-Bone website by clicking here, including full lists of ingredients, guaranteed analysis, and calorie information.
Get Naked® is a registered trademark of the N-Bone brand
Dachshund Rescue List (formerly Words With Wieners) did not receive any compensation (monetary or product) for this review.  Get Naked dental chew sticks were chosen for review because they meet the guidelines for being a recommended product here.  This is an honest review, comprised of personal research, product use, and personal opinion.  If there are links to a product in any of the reviews, a commission may be paid to me if you purchase the product through those links.  The commissions are small.  I do this because I love dogs, all dogs, even your dogs

and I care about their health.   Any commissions I receive as a result of a review do not impact my opinions of a product. Your dogs deserve for me to be nothing less than completely honest.  If I feel a product is worthwhile to be featured here, I will promote it. If not, I won't.  Period. 

Barks That Sound Similar: