Bully Sticks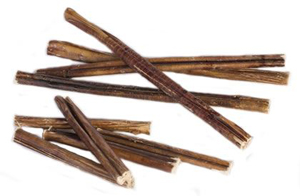 Bully sticks, also known as beef pizzle, bull pizzle, and pizzle sticks, are made from the uncooked, dried penis of a bull or steer.  The bull/steer penis is (or should be) the single ingredient of a bully stick.  Processed correctly, bully sticks should be 100% natural, with no additives or fillers.  Because they are completely digestible, high in protein, and low in fat, bully sticks make an excellent alternative to rawhide.
The idea of consuming a bull penis might sound disgusting to you, but your dog will find it quite delicious.  Some folks find that bully sticks emanate a particular odor while their dog is chewing away.  The amount of odor comes down to the manufacturing process, in which the bull pizzle is hung to drain all of the fluids, stretched, then dried.  The more fluid that is left in before drying, the stronger the odor will be.  Cheaper manufacturers will often hang the bull pizzle or lay them on a hot surface outside to bake in the sun.  This is not the best method of drying, as it does not properly drain all of the fluids.  The sun-drying process also allows for bacteria to grow more easily.  In an attempt to eradicate bacteria, some manufacturers will irradiate the bully sticks, but this is not preferable.  Irradiation can change the chemical makeup of a food, as well as create chemicals that do not occur naturally in that food.  You might notice when you are shopping for bully sticks that certain varieties claim to be odor-free.  Be careful not to purchase bully sticks that have been bleached to eliminate bacteria and/or odor.  The best, most natural, and most odor-free bully sticks are those that have been hung indoors for an adequate amount of time to drain all of the fluids, then also dried indoors in a special baking room.
★★★★☆ Bully sticks get four stars from Dachshund Rescue List.  Even though bully sticks are our very favorite chews in the world, we subtracted a star because even though they are so tasty and good to chew, there can be inconsistencies in quality among brands and it's hard to know when you're getting the best.
There are many sizes of bully sticks available and you should choose a size that is appropriate for your dog.  In addition to regular bully sticks, you can also find bully sticks that are shaped into curly twists, braids, rings, pretzels, knots, etc.  Knowing your dog well and understanding what kind of chews they are capable of handling is important when choosing which size or shape of bully sticks to purchase.
There are many different brands and manufacturers of bully sticks, and as you might imagine, they are carried at many different retailers.  You can find them at your local pet supply stores, and even more abundantly at online retailers.  Since there are so many choices in online shopping, I won't attempt to list all of the websites where you can purchase bully sticks.  I will instead recommend just a few sites and am absolutely certain that you can/will find other suppliers that you find suitable.  A few I would recommend are BestBullySticks, OnlyNaturalPet, PetFoodDirect, Amazon, HealthyPets, and EntirelyPets.
Dachshund Rescue List (formerly Words With Wieners) did not receive any compensation (monetary or product) for this review.  Bully sticks were chosen for review because they meet the guidelines for being a recommended product here.  This is an honest review, comprised of personal research, product use, and personal opinion.  If there are links to a product in any of the reviews, a commission may be paid to me if you purchase the product through those links.  The commissions are small.  I do this because I love dogs, all dogs, even your dogs

and I care about their health.   Any commissions I receive as a result of a review do not impact my opinions of a product. Your dogs deserve for me to be nothing less than completely honest.  If I feel a product is worthwhile to be featured here, I will promote it. If not, I won't.  Period. 

Barks That Sound Similar: