Bonies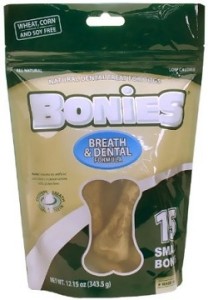 Bonies are a 100% natural chewable treat for dogs.  They can serve as both an alternative to rawhide and/or alternative to real bones.  Like rawhide, they help to clean your dog's teeth and freshen their breath.  But unlike rawhide, Bonies are completely digestible and contain no artificial ingredients and no animal by-products.  For those concerned about allergies, they also contain no wheat, corn, or soy.
The wieners absolute love Bonies and would probably eat them all day if allowed.  Much to their dismay, they generally only get one chew (of any type) per day, and usually not even every day.  I have to manage their weight very carefully, which is difficult when they're giving the "sad eyes".  I know you know what I mean ;).  For size reference, I give them the small size mentioned below.
★★★★★ Bonies get five stars from Dachshund Rescue List.  The wieners give me dirty looks for this rating, because they think eight stars is more appropriate.  Sorry guys, five is the limit.
Bonies come in three different sizes and three different varieties.  They can be purchased as singles (which are great for getting one for your dog to sample before committing to a bag), multi-packs (the most common option), and bulk boxes (great for individuals or rescues with many dogs to care for).
Sizes:
Mini (0.7 oz):  For dogs 5-15 lbs
Small (0.81  oz):  For dogs 5-25 lbs
Regular (2.23 oz):  For dogs 25 lbs or more
Varieties:
Original Formula – with parsley and peppermint oil for fresh breath
Joint Formula – with added glucosamine, as well as omega 3 and omega 6 fatty acids to support healthy joints
Calming Formula – with added chamomile and lavender for calming
As far as I am aware, Bonies can only be purchased at four online retailers for now.  Those are EntirelyPets, HealthyPets, Amazon, and NaturalPets.
You can find more information about Bonies at the Bonies website by clicking here, including lists of ingredients for all formulas, an FAQ section, and a page of testimonials.  In addition to those testimonials, they also get rave reviews at EntirelyPets.
Bonies™ is a trademarked product of the BONIES brand
**Side note:  I have found that Bonies and Terrabone are extremely similar.  Their appearance and ingredient listings are strikingly similar, as well as having three similar varieties/formulas.  From most recent comparisons, Bonies™ are generally the least expensive of the two.  It it unknown at this time if they are affiliated in any way.  If I can find out, I will update this statement.
Dachshund Rescue List (formerly Words With Wieners) did not receive any compensation (monetary or product) for this review.  Bonies were chosen for review because they meet the guidelines for being a recommended product here.  This is an honest review, comprised of personal research, product use, and personal opinion.  If there are links to a product in any of the reviews, a commission may be paid to me if you purchase the product through those links.  The commissions are small.  I do this because I love dogs, all dogs, even your dogs

and I care about their health.   Any commissions I receive as a result of a review do not impact my opinions of a product. Your dogs deserve for me to be nothing less than completely honest.  If I feel a product is worthwhile to be featured here, I will promote it. If not, I won't.  Period. 
Barks That Sound Similar: