BLUE Bones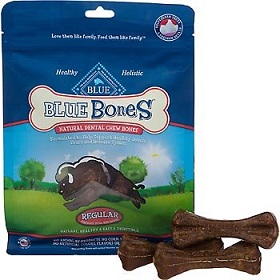 BLUE Bones are a natural and highly digestible dental chew for dogs.  They can serve as both an alternative to rawhide and/or alternative to real bones.  Not only do they help to clean your dog's teeth and freshen their breath,  BLUE Bones also contain a unique blend of natural ingredients that help promote specific health benefits, such as glucosamine and chondroitin (for joint health), taurine (for heart health), and vitamins A, C and E (to help support the immune system).  Their ingredient listing also features fruits and vegetables, as well as two different sources of omega 3 and 6 fatty acids.  For those concerned about allergies, BLUE Bones contain no chicken or poultry by-product meals and are free of corn, wheat and soy.
★★★★☆ BLUE Bones get four stars from Dachshund Rescue List.  The wieners and I agreed to subtract one star because they can be devoured quickly, making them a little pricey per chew.
BLUE Bones come in four different sizes:
Mini:  Recommended for dogs between 5-15 pounds
Small:  Recommended for dogs between 15-25 pounds
Regular:  Recommended for dogs between 25-50 pounds
Large:  Recommended for dogs 50 pounds and over
BLUE Bones can be purchased from a number of local and online retailers.  You can certainly find them at your local PetSmart and PetCo, as well as any independent pet supply stores that carry Blue Buffalo products.  However, you may be able to find a better deal at online retailers, such as PetFoodDirect, Amazon, Chewy, PetBest, PetFlow, etc.
You can find more information about BLUE Bones at the Blue Buffalo website by clicking here, including a full list of ingredients, guaranteed analysis, and feeding guidelines for all sizes.
BLUE Bones™ is a trademarked product of the Blue Buffalo brand
Dachshund Rescue List (formerly Words With Wieners) did not receive any compensation (monetary or product) for this review.  BLUE Bones were chosen for review because they meet the guidelines for being a recommended product here.  This is an honest review, comprised of personal research, product use, and personal opinion.  If there are links to a product in any of the reviews, a commission may be paid to me if you purchase the product through those links.  The commissions are small.  I do this because I love dogs, all dogs, even your dogs

and I care about their health.   Any commissions I receive as a result of a review do not impact my opinions of a product. Your dogs deserve for me to be nothing less than completely honest.  If I feel a product is worthwhile to be featured here, I will promote it. If not, I won't.  Period. 

Barks That Sound Similar: